In the 1800s, Pike County in eastern Kentucky was the battleground for the Hatfield-McCoy feud – the fabled dispute that entangled two families in two neighboring states and left more than a dozen people dead. Today, it is the site of an innovative workshop to teach people how to handle conflict much more peacefully.
"What better place on the planet to teach people about skills that will resolve conflict," said Tim Campbell, Pike County Extension agent for community and economic development and organizer of the aptly named Hatfield-McCoy Institute for Agreement Training.
 The workshop, sponsored by the University of Kentucky Cooperative Extension Service in Pike County, embraces the legacy of the Hatfield-McCoy conflict in an effort to focus attention on the modern-day concepts of mediation, negotiation and facilitation, Campbell said.
"We want to create a simple awareness that there are processes that can resolve conflict," said Campbell, a trained mediator and facilitator. "As the incidence of conflict grows worldwide, so, too, does the demand for dealing effectively and positively with conflict."
Equally important, he said, is that the workshop is designed to introduce "cultural values" that can help people become better at resolving conflict. One is accepting conflict as a normal part of life.
"It's in every place we work and every organization to which we belong," Campbell said.
Another is recognizing conflict as an opportunity, not a problem. "This is the old 'glass half empty versus half full' argument," he added.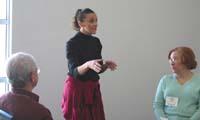 Fourteen people – a school teacher, a surgeon, an Extension Homemaker and a customer-retention specialist included – participated in the inaugural Hatfield-McCoy Institute, a week-long, jam-packed workshop that is an expansion of Pike County Extension's popular one-day Agreement Training program.  
The participants learned largely through interactive exercises, with a minimum of lectures. Stephanie Richards, the nation's only Extension agent for fine arts, was on hand to add what Campbell called "a dose of reality" to an important component of conflict resolution training – role-playing.
"Role-playing is a great tool for this type of learning," Richards said. "But a lot of times what happens is it turns into an acting or performance anxiety situation. And just like with any performance, we're trying to take that anxiety off so they can get to the essence of the message being delivered."
On the second day of the institute, Richards directed several scenes designed to introduce participants to mediation, a form of conflict resolution in which a neutral third party negotiates a resolution between opposing parties in a conflict. Mediation gives people an opportunity to discuss problems, clear up misunderstandings and work together.
"We're not performing, we're experiencing," she told a group of participants as they mediated a make-believe child custody dispute.
Suellen Zornes, Extension agent for family and consumer sciences in Boyd County, facilitated the day's activities.
"You can put the mediation process into everything you do," said Zornes, who is also a professional mediator. "You can use it all your life."
One participant, a customer-retention specialist for a telephone service provider in Pike County, attended the workshop to learn creative ways to solve conflict on the job.
"We're trying to find ways to deal with customers who are either difficult customers or are customers who feel they've been done wrong by our company," she said.
Along with learning the processes involved in conflict resolution, the goal of the Hatfield-McCoy Institute is to help participants create a personal or professional atmosphere that fosters what Campbell touts as "high-performance" teamwork. Such teamwork embraces diversity and values everyone's opinions, he said.
"As a mediator and a facilitator, I'm always happiest when I'm facilitating a discussion where you have the most diverse group of people possible," Campbell said. "Bring them all to the table with all those different points of view and … you will get them to work together to solve problems."
A session on dealing with difficult people, presented by Paula Raines of Collaborative Partners, was especially well received by the group, Campbell said. Raines's work is based on the Enneagram, a means of assessing personality types to negotiate more effectively with each other.
"Based on exit questionnaires, her presentation was the highlight of the week," he said.
Despite the $400 fee for attending the workshop, the level of participation in the first Hatfield-McCoy Institute was on target, Campbell said. More important, he added, participants were "100 percent in favor of doing it again."
"I know from our own experiences that the need for this type of information is growing because, regrettably conflict is growing," he said.
Contact:
Tim Campbell (606) 432-2534