Retired science teacher Roger Postley is a man with many hobbies and he never does anything on a small scale. While growing up in New York, Postley's father taught him the basics of gardening.

Now in his back yard in urban Lexington, Postley's "hobby" is growing heirloom tomatoes. But with more than 40 plants, the hobby has become much more.

"I tend to go overboard on hobbies and what started as a few plants has grown to 41 plants and 30 varieties of mostly European, Asian, American heirlooms," he said. "I started with one or two and it became addictive. I had to buy a small greenhouse to put the plants in. You have to get them from seed since the majority of heirlooms are not available as plants locally."

Rick Durham, University of Kentucky College of Agriculture horticulture specialist, said heirloom varieties are usually older cultivars that were developed in the early 1900s or before.
"Many current heirlooms were popular in World War II Victory Gardens," he said. "Others were introduced from overseas by immigrants over the past few hundred years. Still others have their origins in Native American Culture."

Durham said one thing that sets heirlooms apart from modern-day cultivars is that they are not hybrids. Rather they are open-pollinated which means they usually are allowed to cross hybridize with one another and typically come true-to-type in the next generation.

Postley thinks the main difference in heirlooms and modern cultivars is taste.

"There are over 4,000 named varieties of tomatoes, but only about 30 are available as plants at nurseries," he said. "I just think the heirloom varieties usually have more flavor than some modern varieties. I don't want it to just look like a tomato; I want it to taste like a tomato."

Durham agrees and said that many people believe heirloom varieties have superior flavor since they have been selected for taste and tenderness over many generations.

"In contrast though, most modern cultivars are selected more for shipping, disease resistance, firmness, appearance and country-wide adaptation to climate than taste," he said. "It's not that modern plant breeders are selecting against taste, they just have many attributes in addition to taste that they evaluate."

Postley admits that a hobby is usually a bottomless pit for money, but said this is the first time he's had a hobby that doesn't cost him money.

"I eat as many as I can, and I've never found it hard to give them away," he said. "For the last two years I've been working with the Lexington Farmers' Market to sell my tomatoes labeled as heirlooms. We've developed quite a clientele. I'm not in this to make money or lose money, I just break even and that's fine."

Durham and his colleagues at UK are intrigued with heirlooms. Recently they began a project at UK's South Farm to study their uniformity. He said as heirlooms are passed on from generation to generation the cultivar aspect can get diluted and there may be two different varieties with the same name and two of the same variety with different names.

"We've taken two of the most popular varieties of heirloom tomatoes -- Brandywine and Cherokee Purple -- and ordered seed from 5 sources for each," he said. "Now we've grown them up and fruited them and we're looking to see how uniform those fruit are between the different seed sources."

Results showed that Brandywine is very uniform but Cherokee Purple has more variance among seed sources.

"So we can't say with certainty, but probably if you're growing Brandywine from any of these seed sources, it looks like Brandywine," he said.

Durham said it's fairly easy to get started in the heirloom scene with seed varieties becoming more popular in catalogs and garden supply stores. He added that many people like growing heirlooms despite the challenges presented by growing from seed and sometimes reduced pest resistance.

"For some people, they like the idea of growing something from long ago. It's seen as a way to preserve heritage and history," he said. "It's becoming more popular to see the heirloom seeds in catalogs and in common garden supply stores."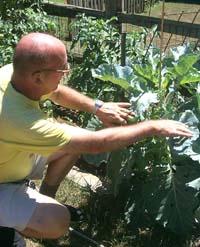 Postley's main interest is tomatoes, but he certainly doesn't limit his garden to the juicy fruit. He said he heard a story recently about a variety of kale grown in the Chanel Islands.
"They were growing kale and then harvesting, drying and varnishing the stalks to sell to tourists and souvenir walking sticks," he said. "So I decided I'd like to try that this year and I've got 16 plants."

If all goes according to plan, Postley said he'd sell dried and varnished walking sticks from his kale at the farmers' market.
Contact:
Rick Durham  859-257-3249