Bobbin lace making, quilting, spinning and basketry were but a few of the crafts demonstrated by local artisans during a recent Heritage seminar at the University of Kentucky Research and Education Center.
The program "The Past…A Link to the Future" was an educational program sponsored by the Pennyrile Area Extension Homemakers Association and the University of Kentucky Cooperative Extension Service.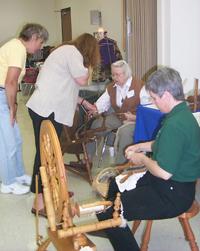 "This program was the brainchild of our area Homemaker officers," Elaine Clift, Trigg County Extension agent for family and consumer science and a member of the planning committee. "They wanted a program on heritage skills, genealogy – things that have been and may not be so popular anymore. We think that heritage is important and a link to the future and we want people to recognize that."
The program included demonstrations and four workshops on quilts, preserving family photographs and papers, genealogy, and heritage seeds and flowers. The workshops repeated allowing participants to attend two of the four.
Momfeather Erickson, a Cherokee storyteller and director of the Mantle Rock Native Education Center in Marion spoke on "American Indian Traditions Live On" during the morning general session.
The afternoon general session, "Whoops, Hoops, Hurrah!: Victorian Clothing and the Dress Reform Movement", was presented by Sandra Staebell, registrar/collections curator at the Kentucky Museum at Western Kentucky University. Her presentation was funded in part by the Kentucky Humanities Council and the National Endowment for the Humanities.
"Many people in the area are interested in heritage and crafts so we thought we would do several different topics," said Cadiz resident Clara Lawrence, president of the Pennyrile Area Homemakers, said. "We have all types of crafts – drawnwork, needlepoint, smocking, knitting, bobbin lace – some of the older crafts that are almost a lost art anymore. I've always been interested in things like that and I'm seeing more people interested as well."
Sue Brumfield of Christian County, said she wished she could have attended all the workshops. She attended beginning genealogy and preserving family photos and papers.
"I thought they were really interesting and were over before I learned all I wanted to," she said. "You learn from the other people who come too."
Brumfield said she also enjoyed the craft demonstrations.
"The sewing and handwork sounds tedious and old-fashioned but it is really interesting and everyone can do something," she said.