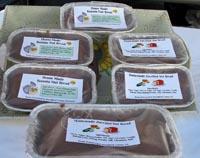 Linda Ison, owner of Crosswind Llama and Herb Farm in Crestwood, has seen her profits double the past two years.

It's not because she's selling more llamas and herbs, the mainstay of her 16-year-old farm. Ison attributes her success to herbed French bread. And hot pepper jam. And blueberry cobbler.

Those are just a few of the food items Ison is now allowed to produce at home and sell at farmers' markets, at certified roadside stands and from her own farm, thanks to groundbreaking legislation passed in Kentucky in 2003. 

"This is really a godsend," said Ison, who sells her products mostly at the Bardstown Road Farmers' Market in Louisville on Saturdays. 

Ison's success since passage of House Bill 391 is typical, according to Sandra Bastin, food and nutrition specialist at the University of Kentucky Cooperative Extension Service and one of the visionaries behind the legislation. Previously, farmers were limited to selling unprocessed fruits and vegetables unless they had certified kitchens.

"The home-based program has opened the doors for these interested farmers to be creative and resourceful," she said. "As a result, they are reaping economic benefits they didn't think possible since the changes brought about with tobacco."

Janet Eaton, farmers' market specialist for the Kentucky Department of Agriculture, agreed.

"It's extremely profitable for folks," said Eaton, herself a home-based food processor. "This is the first year we've seen the true market strength and potential of the program."

The law allows farmers to be certified in two categories of home-based food production. One is the home-based processor certification, which allows a person to produce and sell lower-risk products, such as jams, jellies, breads and cakes. 

The other is the home-based microprocessor certification, which enables a person to produce and sell higher-risk, low-acid or acidified foods, such as salsa, barbecue sauce and pickled vegetables. There are a few more requirements to become a microprocessor, including attending a UK workshop ($50 fee) and submitting recipes for approval.

Both certifications require that products contain a primary or predominant horticulture product grown, harvested and processed by the farmer, and both specify product labeling requirements. The Kentucky Department of Public Health registers applicants and awards licenses.

"Many of these people started out selling plants, and then they would raise some of the plants to have produce on hand. Now they can also have value-added on hand," said Bastin, who conducts home-based workshops and also oversees the UK College of Agriculture's role as processing authority for certification.

Since House Bill 391 became law in November 2003, Bastin said 130 processors have been approved and 24 microprocessors have been certified. Each one produces and sells anywhere from two to 30 different products.

"All you have to do is look around to see the diversity," she said. "Farmers are selling canned sliced green tomatoes to fry, hot mustard spread, low-sugar pickles, pickled corn and salsa, pickled beets, chowchow, lime pickles."

"People have come up with marvelous products," added Eaton. "There's a processor I met in Louisville who is using European chocolate in zucchini bread that is to die for. It has allowed people to use their creativity and to gauge their consumers' needs."

In addition, the home-based legislation has enabled farmers to extend their marketing period.

"It helps the market fill out both ends of the season," said Eaton, noting that many of Kentucky's 98 farmers' markets now open as early as April and close in November.

While the home-based certification program was created to help farmers, there have been other benefits as well, including a boost to the local economy.

"Anytime a purchase is made at a farmer's market or on a farm, that money stays locally and circulates locally," Eaton said.

Plus, as Bastin explained, allowing farmers to sell their home-processed goods at farmers' markets and other locations is great for agritourism.

"To many people, visiting a farmers' market or certified roadside stand or spending a day on someone's farm is nostalgic," she said. "That's why a lot of these farmers are doing this. They have canned in their youth with their family members. Now they have their grandma's recipe, which they've updated for safety reasons. It's a piece of their heritage they're giving."

The home-based food certification legislation was the result of a cooperative effort between UK Cooperative Extension Service, Kentucky Department of Agriculture, the Kentucky Department of Public Health, and Kentucky Farm Bureau. To apply for certification, contact Mark Reed at (502) 564-7181, Ext. 3677. For more information about certification, or to register for microprocessing workshops, visit the UK College of Agriculture Web site. 
Writer:  Terri McLean   859-257-4736, ext. 276 
Contact:
Contact: Sandra Bastin, 859-2571812
Janet Eaton, 502-564-5126
Linda Ison, 502-222-9504