With home decorating and fix-up shows filling television sets today, many homeowners are keen to bring some new life to their homes.
To help them in their quest for new ideas, the University of Kentucky Cooperative Extension Service and the Lincoln Trail Area Extension Homemakers sponsored their first Home Decor Expo.

Liz Kingsland, Hardin County Extension agent for family and consumer sciences, said while the information people receive through their television set is good, the expo was a way to get them information on a more localized level.

"Sometimes we have some information through our research-based specialists that maybe is a little bit more doable," she said. "We wanted this to be things they can do. We didn't want this to be a traditional home show with garden work and buildings. We wanted this to be more educational within the home."

Kingsland and Deborah Thompson, Marion County Extension agent for family and consumer sciences, taught two classes on centerpieces and tabletop decorations. Other areas covered at the expo were lighting and energy saving tips, antiques, use of color, rugs, window fashions and linens, and decorating with pumpkins, gourds and cucurbits.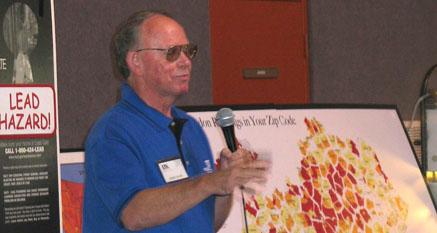 "People are much more in tune to wanting to make their home environment more appealing to the senses and we just thought this was a great way to do it," Thompson said. 

The recent expo was also an effort to provide a new format for Extension Homemaker sessions they conduct each month. Reba Hamilton, president of the Lincoln Trail Area Extension Homemakers, said the expo was an opportunity to see different things. She said she came to learn about table decorations in order to teach it to her fellow Homemaker club members.

"I was very taken with all the table decorations," said Hamilton, of Washington County. 

Theresa Howard, LaRue County Extension agent for family and consumer sciences, said having the program at a centralized location allowed them to pool talent and offer a broader program, not only to Extension Homemakers but to the general public as well. More than 200 people attended the event at the Pritchard Community Center in Elizabethtown.

"People are having the opportunity to spend more time and money on home furnishings," she said. "We knew this would be a very popular topic and with the attendance we've had, I believe that has shown this is the type of activity that the public enjoys."
Contact:
Liz Kingsland, 270-765-4121, Theresa Howard, 270-358-3401, Deborah Thompson, 270-692-2421