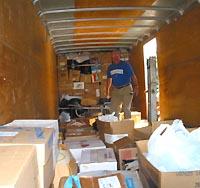 For the past three years, members of the Kentucky Extension Homemakers Association have opened their pocketbooks to buy more than 17,000 items of children's clothing, 4,000 blankets, 7,000 pairs of socks and, most recently, thousands of school and personal items for a group of Native Americans living in Montana and Idaho.

More importantly, though, the 22,000 homemakers have opened their hearts, said Marlene McComas, International KEHA chair.

"I'm amazed," said McComas as she gazed at the "mountain" of items collected for the project during the KEHA's convention in April at the Marriott Griffin Gate Resort in Lexington. "This is just fantastic, especially for the third year. So many times when you start a project that's going to be for several years, it's great the first year and then it kind of whittles out. But look at this."

Boxes full of pencils, erasers, notebook paper, toothpaste, deodorant, teaching supplies, and more were stacked to the ceiling in a room set aside at the hotel. They would soon be transferred to a 32-foot trailer waiting outside and, eventually, transported to the Northern Cheyenne and Lame Deer reservations and St. Labre Indian Catholic School some 1,700 miles away.

"We'll be there right in time for school to start," said Clyde Conover, a volunteer with the St. Vincent de Paul Society in Bardstown who stores and delivers the donated supplies for KEHA. "We enjoy working with the Native Americans, and we enjoy working with the homemakers."

The American Indian Project, which is in its final year, was the brainchild of Linda Wells, who preceded McComas as International chair of KEHA. Although it wasn't exactly international in scope, the organization decided to "work with our own" for this three-year project.

"In a way it is sort of international," said McComas, of Williamstown in Grant County. "Their land is so different, their soil is so different, and their needs are so different than what we can even fathom."

Previously, KEHA has undertaken a literacy project in Honduras and helped establish canneries in the Ukraine. Once the American Indian Project is completed this year, the organization will take on a project in Jamaica, where they will establish a school computer lab.

Although projects such as these allow KEHA members to focus on helping others, they also are created to be educational. Throughout a project's entirety, member clubs sponsor activities and events centered on the selected area's culture and its people.

"That's where the University (of Kentucky Cooperative Extension Service) comes in so handy," McComas said. "The Extension Service does an international program on the country that we choose; they give us a lot of background information. They also incorporate what homemakers love – cooking. No matter where we move up to in our leadership and our political aspirations, we are still homemakers and we love to cook. So UK provides us recipes."

KEHA is providing a hands-on learning experience to culminate the American Indian Project this summer. Two busloads of members will travel to the reservations to see firsthand how their project is making a difference.

"The trip was planned, more or less, as entertainment," McComas said. "But it's going to be so educational and so rewarding, I think, for the women to actually go and see where they're efforts have gone."

However, she was quick to add that few have participated in the project for their own benefit.

"This is something that's so indigenous to our group. They don't necessarily want recognition for it. They just want to get the project done, and they're not real quick to say 'Be sure to note that I did this or that.' They're not doing it for rewards," McComas said.
 
Contact:
Writer: Terri McLean 859-257-4736, ext. 276
Contact: Marlene McComas, 859-824-7555, 859-824-589