This year, Doris Baker made 22 stockings to help brighten someone's holiday, and to help brighten the future for ailing children.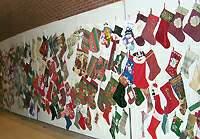 Baker and other members of the Jefferson County Extension Homemakers made 406 stockings for the annual Jefferson County Festival of Trees and Lights to benefit Kosair Children's Hospital. Sixty of those are from the Log Cabin Quilters Club in Oldham County.
Baker, 78, said she first began making stockings for the event as a member of the Quilters Choice Fan Club, a quilting club that met at the Jefferson County office of the University of Kentucky Cooperative Extension Service. When she became president of the Extension Homemakers association in 1997 she brought the idea to clubs around the county.
"The money goes to redo units at Kosair, and I thought there was no better cause than that," Baker said.
Nelda Moore, Jefferson County Extension agent for family and consumer sciences, said volunteer activities have always been a part of Homemakers activities.
The stockings are made in all sizes and styles. Some are simple designs and priced affordably so school children visiting the event at Slugger Field can buy one if they want. Others are quilted or made of designer drape and furniture fabrics. Most of the materials are donated.
This year's money will go to the oncology unit at the hospital, said Jennifer LaPointe, chair of the stocking committee.
Trees, wreaths and stockings are decorated by volunteers and displayed during the four-day event, which was Nov. 21-24. People pay an admission fee to walk through the holiday wonderland and everything is for sale, she said. Only the stockings are available on a cash and carry basis. The remaining items are picked up at the event's conclusion to ensure the wonderland stays wonder filled.
"It's a neat trickle down effect," LaPointe said. "The Homemakers donate time and talent and someone else donates money to take the stocking home."
Prices are placed on the stockings and approved by a pricing committee. LaPointe said friends and family and several youth groups make stockings for the event, but the bulk of the stockings come from the Homemakers.
"They've been so supportive and every year are just as enthusiastic," she said. "It wouldn't be what it is without them."
LaPointe said she looks forward every year to see what designs they will come up with and is always amazed with the creativity.
Baker said she collects ideas throughout the year and the ideas also come from within.
"You get started on one and another pops into your head," she said.