When two brothers decided to retire from farming, they were looking for someone to buy their property as a whole and maintain its agriculture heritage.
After several bends in the road, the farm today is well on its way to becoming a showcase for agriculture thanks to cooperative efforts between Taylor, Adair and Green counties.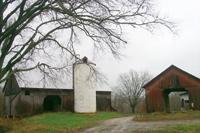 The Homeplace on Green River Inc. sits outside of Campbellsville on the banks of the Green River near the point where the three counties meet, and is adjacent to the Tebbs Bend Civil War Battlefield.
The location makes it a prime spot to showcase agriculture and attract tourists, said Becky Nash, University of Kentucky Cooperative Extension Service agent for Family and Consumer Science in Taylor County. Nash, who has helped facilitate the project, said more than 1 million people already visit the area annually to spend time visiting Civil War sites and Green River Lake.
With all the pluses associated with the property, the three county judge-executives got together and brought in residents to discuss what could be done to keep the farm intact, Nash said.
"What came to the surface was that it should be preserved, intact, for future generations to enjoy and see," she said. "Also, it would protect the Green River."
Taylor County bought the bottom 180 acres using a grant from the Kentucky Heritage Land Council. This land is the Tebbs Bend Nature and Recreation area. A tollhouse, located nearby, was purchased with additional grant money to become the visitor center for the nature area and the Tebbs Bend Battlefield Association.
The Nature Conservancy, which held an option on the farm, was very interested in what was going to happen to this area," she said. "The Green River is Kentucky's most biodiverse river."
The remaining 230 acres will be used to show farming throughout past generations and also glimpse the future, and will be owned and operated by a private, nonprofit corporation put together by the three counties. Money to pay for this piece of the package came from a grant from the federal Farmland Protection Act.
Nash said her involvement came as part of her role in Extension.
"Our Extension Council identified economic development as our job one," she said. "Tourism is a part of that."
Nash said Extension has been there to help with facilitation, organizational skills, communication, resource information, and wherever else needed.
"It is most definitely an educational process," she said. "This is new ground and we are a part of the College of Agriculture and this type of project can help farmers and farm families learn about diversity on their farms and lifestyles. Also, farmers need to be responsive to the consumer and this project helps do that. We are also educating the public about agriculture. All those pieces come together and give us a project where we should be spending our time."
As the project gets on its feet Nash anticipates her role will diminish.
Homeplace board president Billy Fudge, a retired forester, has been involved since the working group was first established and is excited about the possibilities.
"I saw an opportunity to help the community," he said. "To see that the three counties were working together, I wanted to be a part of it. I thought it would be an opportunity for us to do something bigger and better than we've done in the past. Plus, I've farmed all my life and I've worked in natural resources all my adult life, and I don't want to see our rural vista destroyed. I believe that through proper planning we can have a rural way of life and still be a part of modern life."
Fudge said Nash's work with the project has been vital.
"Her office and what the University of Kentucky allows them to do for John Q. Citizen out here, is vital to the rural and farming communities," he said.
A feasibility study to determine what needs to be done first and other aspects of the project is just getting under way. The board is also interested in being the location for the proposed Kentucky Museum of Agriculture.
"We can't do everything everyone wants us to do," Fudge said. "Yet we have a grand vision and want to see our mission accomplished as soon as possible. The reality is some things will take time."
Fudge said the Homeplace's mission is educating and informing the public about where farming has come from and how the nation was built on a strong, rural economy and how it is still sustained by that strong rural economy.
"I want, and I think the board wants the people to know where we come from, where we are and where we are likely to be with the things we are doing in agriculture today," he said. "Also, we have a vision of research here to help institutions already in the state. One example of that is the repopulation of the American Chestnut tree in the Kentucky forest ecosystem and the Homeplace is going to be a big part of that."
Contact:
Becky Nash, (270) 465-4511