Hopkins County's junior leadership program took a side trip through history with a focus on architecture to celebrate two bicentennials. The day's activities included a visit to the local history museum and a historic homes walking tour.

"2006 is the bicentennial of Hopkins County and 2007 will be the bicentennial of Madisonville, so to commemorate these special events in our community this day was added," said Jeremy Teal, University of Kentucky Cooperative Extension Service agent for 4-H youth development in Hopkins County and member of the Junior Leadership Hopkins County committee.

"We are doing a historical day that focuses on the community," he said. "Our committee had several ideas on how to proceed with this and one of those was the architecture program, because Nancy Kelley, our Extension agent for family and consumer sciences, does a program with architecture. There will be some other aspects included, but architecture is the primary focus."

Each school in the Hopkins County school system sends a student to the leadership program, said Kellie Arnold, also a Hopkins County 4-H agent. The students range from fifth grade to 12th grade. 

Nancy Kelley was the instructor and coordinator for the day's events. She is also a member of the Madisonville Bicentennial Commission.

"The end goal would be the appreciation and ultimate preservation of these historic buildings. In the 25 years I've lived in Madisonville, I've seen entire city blocks razed and new buildings built. We've seen some of our older schools demolished and some refurbished.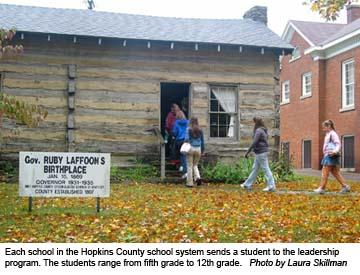 "I want the kids to appreciate what we have and when they grow up and are leaders of the community not to be so fast to replace some of our history with 'new and improved.' I want them to think about the history and some of the economic aspects. With the new tourist commission, they are going to start looking at Madisonville being a Civil War history attraction. If we are going to promote our community, we need to have these older landmarks in place and preserved."

The day began in one of the town's historical homes, the Morton House, with a slideshow to give the students an idea of different architectural styles. They visited the Ruby 
Laffoon cabin, birthplace of the Kentucky governor and local history museum, took a walking tour of some of the historical downtown homes, and held an architectural scavenger hunt. 

Madisonville North senior Whitney Davis said she's lived in Madisonville nearly her entire life but had never been to the Ruby Laffoon cabin or inside the Morton house. 

"I wasn't aware of how rich the architectural history is in Madisonville, so for me it's very interesting," she said. "I have a large interest in interior design so to see all these old buildings and how they lived and the history of it is very interesting to me.

"From this day, I want to be able to tell my friends and my children some day, about Madisonville, the place where I grew up and the history of it," Davis said. "When we go down the street or go out to eat or go shopping, I can give them an interesting fact like so-and-so lived here or this happened in that building. It makes Madisonville a special place to live and gives it character. One thing being lost in my generation is people wanting to preserve hometowns. A lot of people want to go away and get out of their town. But I love this town and I've enjoyed growing up here and so to talk about preserving it and making sure other people can enjoy it generation after generation, I think is important." 

Grapevine Elementary fifth-grader Taylor Hampton said the day was fun as well as educational.

"I'm learning about the different people and the things they did and where they were living and where they were born," she said. "It's fun. There are a lot of pretty houses with the limestone, half bricks and whole bricks. It's really pretty. It's important because you learn about the city you live in."

The junior leadership program is an ongoing venture. The school-to-work program and local businesses conducted the program initially and 4-H came on board about four years ago.

"It's a program for young people to learn about leadership roles in the county, government, business and to learn how to work together as a team to make a business work or a community come together," she said. 

Having only lived in the community for about five years, 4-H agents Arnold and Teal said the day was a learning experience for them as well. "We are seeing some things we haven't seen before, so it's good for us, too," she said.
Contact:
Nancy Kelley, Jeremy Teal and Kellie Arnold, 270-821-3650