Cucumbers, bananas, lemons, limes, and carrots along with other fruits and vegetables were transformed into wheels, chassis and drivers as fifth-graders in Ohio County competed in a horticulture derby.
The students from Southern and Wayland Alexander competed recently in the championships. Each team of four or five students was required to design a car using at least five fruits and vegetables. Then, the cars were pitted against one another on a sloped track with the winner going the furthest distance. After an initial run, it was back to the pits for modifications before the final race.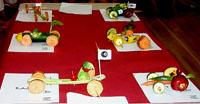 "We're just trying to do our best," said Cody Wolfe, a Wayland Alexander student. Wolfe's team was using lemon and lime for their wheels.
"We're learning about plants and seeds and all kinds of stuff," said fifth-grader Hannah Baird, as she and her teammates considered modifications to their derby entry after a third place finish in the preliminary race.
Lemons, limes and sweet potatoes were the items of choice for wheels with cucumbers, celery and carrots being used for the car's body. From there creativity set in with brussel sprouts being used as drivers complete with eyes. Green beans were used as spoilers and bits of lemon as headlights. Three bamboo skewers, four toothpicks and one rubber band was all they had to hold the cars together.
"It's real neat to watch the kids. Sometimes they are more worried about how it looks than whether it runs," said Gary Druin, Ohio County Extension agent for 4-H/Youth Development.
The derby, fashioned after the Lunch Box Derby, is a way for youth to learn about vegetables and fruits while having fun, he said. In addition to the derby, students competed in vegetable judging and identification contests and were treated some nutritious snacks.
It is also teaching youth about some new crops being grown in their state.
"With the loss of tobacco a lot of farmers turning to vegetables, we are trying to teach the kids about vegetables and what different types of vegetables are out there," Druin said. "So many of these kids don't live on a farm so we want them to be exposed to them. I grew up on a farm and most of these vegetables we raised and we ate. Now, unless they get it at a grocery store, these kids aren't exposed to the seeds much less the plants or the vegetables."
The program also achieves some of the goals established by the Kentucky Education Reform Act, he said. Those include nutrition, team building and decision-making skills.
This year's program is a pilot using only two schools but they hope to expand it into all the county's elementaries next year.
Marjorie Lellie, fifth-grade teacher at Wayland Alexander, said the program has been a big hit.
"It's been wonderful, the kids have really enjoyed working with vegetables," she said. "It was new for them, they didn't know the different kinds of seeds and plants. It really goes along with our practical living skills they are tested in. They are tested in skills, working with teams, nutrition and the food pyramid. So, we'd like to do this earlier in the year and build on it with the nutrition. It goes very well with our fifth grade curriculum."
Lellie said this year her students spent a couple days with seed identification, plant identification and they were taught how to judge. Next year, she said, she hopes to incorporate more of it into her science curriculum.
Contact:
Gary Druin, (270) 298-7441