Expansion of the cut flower production mix to include additional hydrangea species could create niche markets for some Kentucky growers.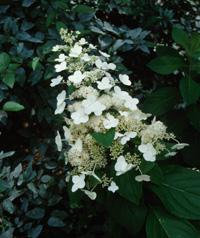 Cultivars being studied at the University of Kentucky College of Agriculture's Research and Education Center in Princeton could add another plant to the product mix for nursery growers in the state.
Research on hydrangeas began with plantings in 1996 and continues today. Winston Dunwell, UK Extension horticulture specialist, said the original intent of the work was to look at hydrangeas as a cut flower for growers to diversify and included such production aspects as irrigation versus non-irrigation.
"It started as a horticulture opportunity project and has been expanded to a New Crops Opportunity Center project," he said.
The research was looking at the more established pinks and blues along with whites or H. paniculata types. Most of the pinks and blues planted in Oct. 1996 did not survive, but the whites were more hardy in western Kentucky. Pink and blue plantings at UK's research center in Quicksand had a better survivability.
"It became obvious to us at Princeton that for summer fresh-cut white flowers on tall stems, and for fall cut dried flowers, the paniculatas looked the most promising," Dunwell said. The flowers were shown to a local cut flower operator who thought there was some potential for them. So, the UKREC study has focused on the paniculata types.
"We are getting the best of both worlds with this study," he said. "The white hydrangeas have not been as popular in landscapes as the pinks and blues, but they are very hardy. We are evaluating them for cut-flower production and learning more about use as landscape plants."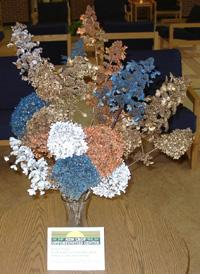 The study also focuses on the shelf life of the hydrangeas. That work is being conducted by UK floriculturist Sharon Bale using plants at the Horticulture Research and Education Center in Lexington, and at UK's Robinson Station in Quicksand.
This year, researchers and technicians at the UKREC conducted a sterile bloom count on the plants to get an idea of how many petals there are and see which ones produce the showiest bloom, Dunwell said. The more sterile the blooms, the showier the flower. That effort was done to determine where to direct future research in developing a cultivar.
The work has been funded through the New Crop Opportunities Center at UK and the horticulture department's nursery landscape fund. Additional funding through the Phase 1 tobacco money also will be used in 2002 to begin studies on pot-in-pot production of the plants.
"Now we are getting down to putting a selected cultivar into a pot-in-pot nursery production system," he said.
The research will look at practices needed for nursery production and for the cut flower market. There will be pot-in-pot demonstrations across the state.
Having funding from a number of sources has allowed the study to be much bigger than initially conceived, Dunwell said.
"We will be looking at environmental as well as production costs and outcome, and the value of the crop," he said. "It gives us opportunities to look at things that the average nurseryman would not have time to research thoroughly on his own."
There are still questions the grower will need to answer, Dunwell said. Those include what prices the flowers can be sold for and where to market them.
For Dunwell, the bottom line is that by spending $5,000 or $10,000 on the research, it may allow 10 people to add hydrangeas either for cut flower or landscape production to their operation and add to their income for 20 to 30 years .
"It may be the gravy that keeps them on the family farm," he said. "That's the way I look at it. It's not something to replace something but is a diversification. I think a lot of farmers that are going to survive are going to have to be exceptionally diversified."
For more information on hydrangeas and other research being conducted through the New Crops Opportunities Center, visit its Web site at http://www.uky.edu/Ag/NewCrops.
Contact:
Win Dunwell, 270-365-7541