A model program that encourages an entrepreneurial culture in tobacco-dependent counties is extending its reach into south central Kentucky.

Until now, the Kentucky Entrepreneurial Coaches Institute, coordinated by the University of Kentucky College of Agriculture, has focused its efforts on 19 northeastern Kentucky counties, to create a regional network of advocates for entrepreneurship. In the three years since its inception, 60 community leaders from diverse career fields have graduated from the program intent upon smoothing the way for a strong entrepreneurial culture in their region.

In 2008 the institute will expand into 22 counties in south central Kentucky: Adair, Allen, Barren, Butler, Casey, Clay, Clinton, Cumberland, Edmonson, Green, Hart, Laurel, Marion, Metcalfe, Monroe, McCreary, Pulaski, Russell, Taylor, Warren, Washington and Wayne. This newest edition of the program, in cooperation with the Center for Rural Development in Somerset, is funded by a grant from the Governor's Office of Agricultural Policy and the Kentucky Agricultural Development Board. The goal behind the program's expansion is to develop new businesses and to train 60 leaders who are willing to work with aspiring and current entrepreneurs in the region.

KECI director Ronald Hustedde emphasized the importance of entrepreneurial enterprises to Kentucky's economy. 

"We know that 50 percent of jobs come from small business in this state and in the nation," he said. "We also know that 75 percent of new wealth creation comes from entrepreneurs, from innovators. They find new markets or new services, new products, new niches, and that leads to wealth creation. I think we can't ignore that."

Hustedde said that wealth generated in such a way typically spreads through the community. 

"Entrepreneurs tend to stay in their community. They share, not only their wealth – they spend more locally – but they also employ local people. And in terms of philanthropy, they tend to give more to the local community," he said.

Recruitment for applicants for the 2008 class, which will start in February, is just beginning. Hustedde said they are looking for 30 people who are interested in building entrepreneurial friendly communities and coaching individual entrepreneurs. The application process is highly competitive, but he encourages interested individuals from the south central Kentucky region to apply, particularly those from farm families, those who have started their own business at some point or those who are recognized as leaders in their communities.

"My colleagues and I believe that if we invest in rural lay leaders – providing them with new skills and knowledge and expanding their network base – they can significantly influence cultural, political and economic changes in the region," he said.

Those chosen for the 16-month training will receive a fellowship valued at approximately $18,000, which covers the costs of eight seminars, each lasting two to three days, and an eight-day trip out West. Fellows will visit the Pine Ridge Indian Reservation in South Dakota to learn about successful entrepreneurial ventures in the face of significant obstacles, as well as investigate youth entrepreneurship in the area and high growth entrepreneurs that have emerged in the Brookings, South Dakota area.

It is not the intent of the program to train entrepreneurs. Rather, fellows in the program will be instructed in coaching methods so that they can return to their communities with the skills needed to create support networks for local entrepreneurs.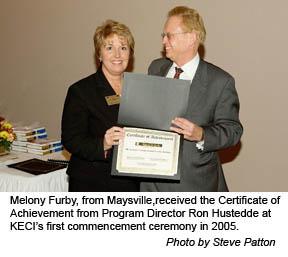 Mason County's Melony Furby, who works for the National Federation of Independent Business, was one of the original KECI fellows, having graduated from the institute's first class. She was sold on the program when she realized what it could mean to communities.

"We have lost a lot of industry to Mexico and China," she said, "and I don't think those jobs are going to come back any time soon. So my feeling is we need to grow our own businesses and the coaching program can help accomplish that in Kentucky.

"The neat thing," she said, "is that the program targets farmers who have lost tobacco income and still want to stay on the farm and develop some other type of business, but yet the coaching can apply to anyone starting any type of business.

"As a coach, part of our job is asking the tough questions to get the business owner to really consider all aspects of what it takes to start the business, develop it and how they envision it down the road. We encourage them to create a 'roadmap' for their business," Furby said.

So what do the 22 south central Kentucky counties have to look forward to when 60 KECI fellows graduate from the next two classes? Hustedde said that in northeastern Kentucky, many of the graduates of the first two classes now influence policy at the local level by helping to initiate high school entrepreneurial programs or working with counties to create an economic portfolio whose resources are balanced between industrial recruitment and entrepreneurship. Others helped give greater visibility to innovative farmers. One group of coaches started a six-county initiative to move agritourism forward. Another group brought together Maysville Community and Technical College with Morehead State University to create a new fulltime position for an entrepreneurial coach who serves a five-county area.

"As businesses grow and become stronger," Furby said, "the potential for job creation becomes greater. KECI is an incredible program and has the potential to enhance the economic development efforts in the state."

"With the next two classes, we'll have about 120 people who will have gone through a very intensive process and will be involved in making change, of building an entrepreneurial-friendly culture," Hustedde said. "We think, with a critical mass of 120, we'll be able to influence policy (in the state)."

For information about applying to the 2008 KECI class, visit the KECI Web site at http://www.uky.edu/Ag/CLD/KECI or contact Katie Ellis at 859-227-0911 or katie.ellis@uky.edu. The application deadline is November 30.
Contact:
Ron Hustedde, 859-257-3186