The mountains of eastern Kentucky are better known for their natural resources than agriculture, but in Johnson County, small agriculture-related businesses are abundant and thriving. With the help of the county's Cooperative Extension Service, four of these businesses have formed the area's first agritourism loop as a means of educating others and preserving the area's agricultural heritage.

"Extension is helping people recognize all of the many assets they have that they aren't capitalizing on," said Brenda Cockerham, University of Kentucky Cooperative Extension agent for family and consumer sciences in Johnson County. "Part of our job is to create the vision and the game plan on how to do it, and that's what we're doing."

Cockerham said agritourism is something she's been thinking about for a while, but official planning for the loop began in July. She and Brian Jeffiers, UK Cooperative Extension agent for agriculture and natural resources in Johnson County, arranged meetings for those interested in being a part of the agritourism loop and chose four sites. 

"We're starting with four particular sites that are open for business and people are welcome. That was the first criteria," Cockerham said. "The second thing was the agriculture connection. So there has to be something grown or something made or something that has to do with agricultural products."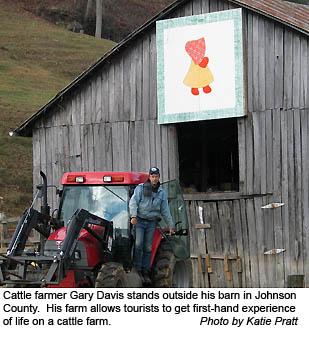 The businesses, all located off U.S. Highway 23 in the northern part of the county, offer tourists opportunities to see, shop, learn and do many agriculture-related activities. Destinations include two specialty shops that sell homemade and Kentucky made products, a cattle farm and sorghum producers. Although it's not on the loop, meals and accommodations can be arranged through the Gambill Mansion, a bed and breakfast in nearby Blaine. 

"We felt it would be a great tourist draw and a great opportunity for us, as well as tourists, to be on a location where people can come through and tour farms, tour us and enjoy the countryside," said George Ramey, who owns the Rusty Hinge, a store that specializes in Kentucky made products and crafts. "With the coal industry down some, we need some kind of industry, and tourism would be a great one."

Sharon Blanton is the owner of Spice Ridge, an antique store and another stop on the loop. In addition to selling collectibles and antiques, Blanton grows herbs and makes crafts out of herbs and spices.

"I like for them (tourists) to see all the hard work that people put into making just everyday things they had to have years ago like churning their own butter and making apple cider," she said. 


Businesses on the loop emphasize their county's history and tourists might leave with a deeper understanding of how life used to be in the area. Cockerham said Blanton is not just a storeowner, but she is very knowledgeable about the mechanics of the antiques she sells, which include many tools that were used to complete everyday tasks in the home as far back as 100 years ago. 
In addition to his shop, Ramey collects antique, horse-drawn farm implements. He plans to build a shed to display the equipment along with a description of each piece and its use.

Joe and Jennifer Castle are sorghum farmers, and while sorghum is a seasonal crop, they educate others about the process of making sorghum throughout the year. 

Cattle farmer Gary Davis's family has farmed in the area since the 1800s. He paints a picture of what life was like then, through stories that have been passed down through his family while demonstrating how to use an antique corn sheller to grind corn to feed his cattle. He also owns a restored antique Massey Ferguson tractor, and part of one of his farms follows the Jenny Wiley Trail. 

"I think kids that grow up in cities and towns don't know where (food) comes from," Davis said. "There are still some farmers left, and kids need to see that."

The group hopes to capitalize on its close proximity to U.S. Highway 23, a National Scenic Byway known for producing some of country music's biggest stars. The U.S. 23 Country Music Highway Museum is the starting point of the loop for tourists coming from the south.

"We have a lot of talent that goes far beyond music, so we're going to merge that in with the whole concept," Cockerham said, adding that along the loop will be quilt barns that each tell a story of the county's country music heritage.

The four locations began a series of field tests in mid-December, in which they were evaluated by the county's extension homemaker groups on how effective their agritourism experience was and ways to improve the experience. These tests will continue until the major tourist season begins in the spring. Cockerham said the group should have all of its marketing tools ready and plan of execution solidified by spring. 

The loop has room for expansion. Cockerham said about 15 different agriculture-related businesses have been identified as potential additions to the agritourism loop. Most of the current businesses on the loop also have plans for expansion of their current agricultural activities. 

Tours are self-guided and begin at either the Black Barn Produce Store or the U.S. 23 Country Music Museum. For more information on the loop, contact the Paintsville Tourism office or Cockerham and Jeffiers at 606-789-8108.
Contact:
Brenda Cockerham, 606-789-8108
Brian Jeffiers, 606-789-8108