A local food supply, community supported agriculture, keeping the family farm in the family – all are topics for which there is a lot of interest and a growing groundswell of support across the country. Recognizing that, the University of Kentucky College of Agriculture opened the floor for discussion at the Growing Kentucky II conference in Lexington.
In his welcome to the group, Scott Smith, dean of the College of Agriculture, recalled the first Growing Kentucky conference two years ago when he spoke of several areas on which he felt the college could work. He said he thought the college had made reasonably good progress in several of those areas, including the development of the organic section of the UK Horticulture Research Farm in south Lexington, the sustainable systems undergraduate program and the UK food systems initiative.
"Things did change. We were inspired. An event like this is fun and entertaining and enlightening, but it can also change our course," he said. "It is certainly an objective of ours in the College of Agriculture that these ideas and thoughts and analyses that we hear over the next day and a half help to guide us and shape our path in the future."
Participants from across the country met to field new ideas about supporting Kentucky's rural communities and to examine the economic, environmental, social and political ramifications. Bonnie Tanner, one of the planners of this year's conference, reflected on why the event drew nearly 400 people
"I think people are really caring about their food, and this is one thing that agriculture's got to reckon with," she said. "People want to know where their food comes from."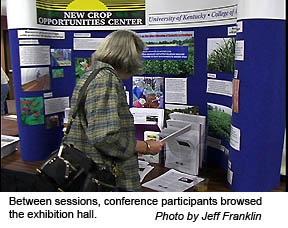 The event differed from other agricultural conferences in that it threw a wide net to attract people and ideas from other disciplines, including business, media, government, the humanities and the arts. The UK College of Fine Arts partnered with the UK College of Agriculture and hosted a special back-to-the-land themed art exhibit in the UK Art Museum, as well as an evening of bluegrass music by the Red State Ramblers and readings by Kentucky authors Wendell Berry and Bobbie Ann Mason. In opening the art museum exhibit, College of Fine Arts Dean Robert Shay commented that farmers and artists weren't all that different, because farmers work to get the clay out of the soil and potters work to get the soil out of their clay.
"Good farming is more than science and technology," said Wendell Berry, who was pleased with the diversity of the participants. "It's obvious from what's going on here (referring to the symposium's discussions) that there's a politics of agriculture. There's a history. There's a literature of agriculture. There's even a theology of agriculture."
Marion Nestle, a professor in New York University's Department of Nutrition, Food Studies and Public Health, gave the Brown-Forman lecture. An expert on the rise of obesity in the United States, she addressed the bigger picture of the food system, which she defined as the relationship between agriculture, food, nutrition and public health, and the influence that consumers have on the system.
"Do you want a food system that's closely tied to your community, that supports your community, that protects small farms, that allows farmers to make a living?" she asked. "You can do that as an individual. You, as an individual, can go into a school and convince people that kids need to be fed better in school. You, as an individual, can make those kinds of changes. There are very few places in society where this is possible, and I think that's one of the reasons why there's this huge groundswell."
A panel that included local producers and chefs discussed the strong relationships that develop between chefs and farmers. To Ouita Michel, owner and chef of Holly Hill Inn in Midway, it's all about being part of the community.
"I feel like the farmers are part of my restaurant staff," she said.
Chef Jim Gerhardt, co-owner of Limestone Restaurant in Louisville, agreed and said that his desire to put fresh, local food on his menu comes from "a reverence for food."
Farmers Phil Heiskell of Green River Cattle Company and poultry producer Jon Brumley of Water Works Farm both talked about the pride they take in producing the best quality product for consumers.
"I guarantee that bird is within 24 hours of walking. It doesn't get any fresher than that and if it does, you've got to feed it," said Brumley to appreciative laughter.
To Heiskell, supporting local farmers means improving the bottom line but also preventing a rich cultural heritage from slipping away.
"More and more we see the value of land being driven up as cities expand to put in more neighborhoods and more housing," he said. "We have to come up with a better way to make more cash receipts on the farm so people will want to stay on the farm. It's a way of preserving a value. It (the rural lifestyle) can never be replaced once it's lost."
Nestle reflected on the growing movement that is reconnecting people on a local level.

"It seems so important to me at a time when America is fragmented and divided politically and in so many different ways, to have people so concerned about the communities in which they live," she said, talking about the discussions she witnessed over the two-day event. "It seems to be a level of analysis that's way beyond anything that's typical. It's very impressive."
Contact:
Scott Smith, 859-257-4772, Bonnie Tanner, 859-338-6887