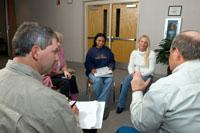 At his Bracken County lumber company, Craig Miller hears the questions local farmers and property owners are asking one another these days.

"Everybody asks 'are you going to raise tobacco this year?' or 'how many pounds are you going to grow?' or 'are you getting out of it?', so it's talked about daily," Miller said. "Anything we can do to help them have a chance to do other agriculture, or ag tourism, or anything that's going to benefit them is going to enhance the counties in the area."

The "we" Miller referred to is an elite group of 30 community leaders who have earned fellowships to participate in the first Kentucky Entrepreneurial Coaches Institute, or KECI. Chosen for their leadership skills and potential to help their community, Miller and the 29 others are in the second year of a 16-month program designed to encourage entrepreneurs in19 northeast tobacco-dependent counties.

"By entrepreneur we mean anyone interested in starting a new business or expanding an existing one," said Melony Furby, a KECI coach and former Maysville Chamber of Commerce director. "This is going to help people in our communities know that we have people who can help them."
"There are 30 of us, and everyone has a different profession and someone can relate to almost anyone, so if you have a person you're coaching and you have a question there's always someone to call," said Kay Boggs, a KECI coach who owns an inn in Elliott County.
The KECI coaches recently met at Greenbo State Park for the seventh of their nine scheduled seminars. The seminars are preparing them for the important work they will do back in their counties. As coaches they will not undertake marketing or financial plans, but rather will be experts in listening, encouraging and helping bring other peoples' ideas to reality.

"Farmers are a crucial part of this and are the ones being hurt most right now in our economic situation, but this isn't limited to farmers," said Lynn Baker, KECI coach and vice-president of Main Street Renaissance in Carter County. "Anybody who has a dream to start a business, we're there to support them."

At the Greenbo seminar, small groups of coaching teams presented proposals that will be considered for mini-grants totaling several thousand dollars. Each proposal is different, but all have a common purpose of helping local entrepreneurs succeed.

"They're really trying to make a difference through various initiatives," said Ron Hustedde, University of Kentucky Extension professor and KECI coordinator. "The coaches value local knowledge and local culture, and value diversity, and so they're building the entrepreneurial culture and strengthening it from the ground up."

Funded by a $1.3 million grant from tobacco settlement funds administered through the Kentucky Agricultural Development Board, the Institute is drawing national attention.

"I'm not aware of any other such program in any other state," said James Calvin, Johns Hopkins University professor of management and member of a special evaluation team that's collecting data on the KECI. "I think it's going to lead the nation not just because of the uniqueness of using tobacco settlement monies, but because it's talking about globalization, it's talking about work, it's talking about how local communities are impacted."

The KECI recently was recognized by the U.S. Small Business Administration as one of the 16 best entrepreneurial practices in the nation.

"A lot of states have small business development centers, but this coaches institute is unique in that it has deputized a number of prominent individuals to go out and work with would-be entrepreneurs," said Chad Moutray, chief economist in the SBA's office of advocacy. "You're getting people who are well known in the community who can help provide the leadership and mentorship that is really needed."

To broaden their understanding of global marketing, the coaches will travel to Scotland in the fall.

"In Scotland the group also will investigate youth entrepreneurship initiatives and see how rural entrepreneurs are expanding into the global market," said Hustedde, who added that the KECI is beginning to recruit its second class of Fellows for the 2005-2006 program. The first seminar will be in September 2005. Nominations should be received by May 31, and application materials must be completed by June 30. The final class will be selected in August.

The 19 counties targeted by the program are Bath, Bracken, Carter, Elliott, Fleming, Grant, Greenup, Harrison, Lawrence, Lewis, Mason, Menifee, Morgan, Nicholas, Owen, Pendleton, Robertson, Rowan and Wolfe. 

For more information, contact Hustedde at 859-257-3186, or rhusted@uky.edu, or go tohttp://www.uky.edu/Ag/KECI/.
 
Contact:
Writer: Haven Miller 859-257-4736, ext. 272