The University of Kentucky College of Agriculture is partnering with Kentucky State University and Purdue University to present a sheep and goat forage workshop Aug. 29 at the Southern Indiana Purdue Agriculture Center.

Extension professionals from all three universities will present information to anyone interested in raising sheep and/or goats. Topics include warm-season annual forages with goats and sheep; fencing and watering for grazing systems; cool-season pasture grazing systems and forage quality basics; forage systems for goats and parasite management; and hoof health in grazing goats and sheep.

The program also includes an overview of a joint meat goat project between UK and Purdue. The objectives of the project will benefit meat goat producers and the meat goat industry by making a herd available to demonstrate how a small herd of meat goats can be adaptable to a small, part-time agriculture enterprise; to have a herd of meat goats available for workshops and educational events and applied research and to develop cooperative educational efforts.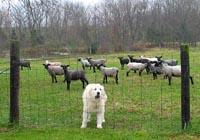 No pre-registration is required and a $2 registration fee can be paid the day of the workshop. The workshop begins at 3 p.m. and concludes at 7 p.m. CST. The Southern Indiana Purdue Agriculture Center is located at 11371 East Purdue Farm Road, Dubois, Ind. From Lexington, take 1-64 west into Indiana to IN-145, exit 72. Turn right onto IN-145 and travel approximately 7 miles to IN-64. Turn left and continue to Schnellville Road. Turn right and continue to S 1025 East - S 1025 East becomes S 1025 E. Turn left onto IN-164/E IN-164. Turn right onto IN-545/Cuzco Rd./S IN-545/Patoka Dam Access Road. Continue for approximately 5.5 miles and turn right onto East Purdue Farm Road.
Contact:
Terry Hutchens, 859-257-2465