The excited voices of youngsters mingled in the air and joined the echo of many young voices before them during a recent visit to Thomas Academy Farm.
Fifth-graders from schools throughout Hardin County attended the biennial Kids Expo. The two-day event, which sees 350 students each day, was a prelude to the Central Kentucky Farm Expo and this year's site was steeped in educational history.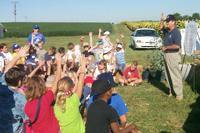 This farm was a Catholic girls school, Bethlehem Academy, from the late 1700s until about 1940 when it was sold, said Rick Thomas, owner of Thomas Academy Farm. It was self-supporting. The school had people farming the land and they used products produced by the farm in the school.
This was the third time the kids program had been offered in advance of the field day, said Rod Grusy, an agriculture and natural resources agent for the University of Kentucky Cooperative Extension Service in Hardin County. It was a joint effort of the Hardin County Cooperative Extension Service, Hardin County Farm Bureau, Hardin County Conservation District and the Hardin County school system.
"Our purpose is to bring young people out to the farm for a farm experience and to educate them about where their food and fiber comes from," he said.
Young people visited 14 stations learning about vermiculture, tobacco, grains, forestry, beef cattle, horses, alternative livestock, wildlife and more.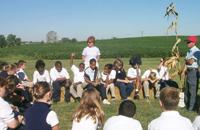 "We are lucky here in Hardin County that we have farmers that are not only interested in their own personal income but also are interested in education, and that's what the Kids Expo and Farm Expo are all about," Grusy said. "We bring them to the farm to show them the latest University of Kentucky research and to help educate them a little bit about how to diversify their farm operation."
Rick and Donna Thomas have been farming the farm since 1987 and it is an excellent example of a diversified family farming operation in Kentucky. They have beef cattle, tobacco, grains and a greenhouse operation on about 850 acres of land.
"When they asked us if we would host this, we were more than happy to because Extension as been very good to us and has been helpful when we needed them and we wanted to pay a little bit back," said Donna Thomas.
"We don't have any children, so this has been great to have children here and give them the experiences we would have wanted for our own children," she said. "I was a pediatric nurse for 15 years so kids were my life anyway."
Hosting such an event involves a lot of work but Rick Thomas noted that if a person is afraid of hard work, they shouldn't be farming.
"We've had field days before and we enjoy sharing and it helps promote our business," he said. "Plus it gives us a step up on some of the new things Extension is doing."
Woodland Elementary teacher Danielle Dunbar said the schools received an educational packet ahead of the event that included such things as vocabulary words.
"Today the students heard a lot of those words being used and were able to answer a lot of questions," she said. "Also, we've been studying about the earth and when we talked about soils, they could relate to it and understand soils better."
Once back in the classroom, she said, they will be discussing career choices because they saw number of career options at the expo.
Dunbar said she too had learned a lot about a farm and the kids were having a lot of fun.
Dominick Flag and Haley Dah-ve Hall, both fifth-graders at Woodland said they had learned from their visit to the farm.
"I learned about the different types of soils and that plants can't grow that well in clay but do better in silt," Dominick said. "I didn't know soybeans had hairs on the plants."
Haley said her favorite part was learning about electrical safety. "If I ever became an electrician, I can learn how to work with electricity and know if the fuse blows to check first to make sure everything is alright, then put the fuse back in."
Contact:
Rod Grusy, (270) 765-4121