It was spring break in Daviess County, the perfect time for the Kids in the Kitchen program that encourages youngsters to think about what they eat. Whether it was fishing with vegetables or gathering up grains, participants gleaned knowledge about the food pyramid and healthy eating.

"Basically what we are trying to do is teach different recipes and the food guide pyramid and, hopefully, they will go home and eat healthier foods," said Ashlee Rzyczycki, University of Kentucky Cooperative Extension Service family and consumer sciences agent in Daviess County. "We are trying to make cooking a little more fun for them, but also give them some alternatives so they can eat vegetables in a different way, so maybe they will eat these things at home."

Rzyczycki noted that only 15 percent of children eat enough fruits and only 20 percent eat enough vegetables daily. So, organizers hope the children will be encouraged to eat more servings of fruits and vegetables and have a better overall understanding of the food pyramid.

"We basically have six stations that are all part of the food pyramid," she said. "They will do different recipes and different activities in correlation to a different part of the food pyramid. Everyone will go to each table and they have a cookbook with all the recipes. There's a parent piece to let them know what we did today plus some supplemental information so they can go home and make some recipes that are not demonstrated today."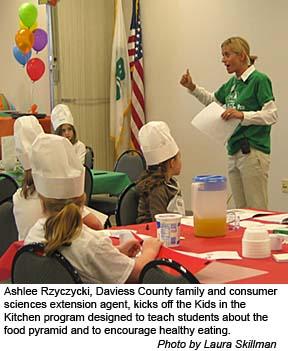 This year's Kids in the Kitchen event, which was the second annual one, was jointly sponsored by extension, Junior League of Owensboro and Kentucky Beef Council. The girls attending the first session were third- and fourth-graders at Girls Incorporated. The other session included girls ages 9 through 12 from the H.L. Neblett Center. In all, 58 girls went through the program. Rzyczycki said they work with the two organizations to help provide an activity for the girls during spring break.

"We are trying to make all kinds of different foods with oils and grains and learn about the food pyramid," said one participant. "I liked the baked potato chips and I like vegetables." 

Christa Wear, a program facilitator at Girls Incorporated, said they brought the girls to the program to teach them to eat healthier foods and hopefully eat healthier snacks at home. Wear said she was also learning.

"I didn't know they had a special food pyramid for kids …," she said. "The girls were excited (about the program) because they knew they were going to get to come cook and they love to eat, so if it involves food, they are excited about it." 

Girls Incorporated provides classes and activities for girls when they are out of school "to help them commit to becoming strong, smart bold women of tomorrow," she said.
Contact:
Ashlee Rzyczycki, 270-685-8480