Phil and Fran Davis drive from New York to Indiana every fall to see two college football games and in between the two, they travel the nearby countryside discovering things the Midwest and surrounding states have to offer.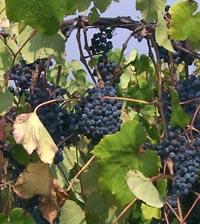 This year, one of their side trips led them into Kentucky. As they were driving along highway 127 in Mercer County, they noticed a tourism sign with directions to a nearby vineyard. The couple's curiosity led them down a winding country road to Lover's Leap Vineyard, one of the largest vineyards in the Commonwealth with 30 acres of grapes.

"A lot of vineyards don't always use their own grapes, they are either just starting to grow them or they buy juice from other vineyards in California or New York," Phil said. "So it's nice to see that they are growing, making and bottling their own product here."

The grape industry is gaining popularity in Kentucky thanks in part to education programs and research by Kentucky State University and the University of Kentucky College of Agriculture. Also, the Vineyard Assistance Program of the Kentucky Department of Agriculture helped a lot of growers by providing half of the funding needed to start growing grapes.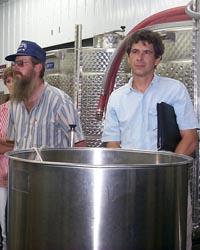 "Grapes draw a lot of interest, they are a unique alternative crop for Kentucky that have a lot of potential," said Kirk Pomper, principal investigator for horticulture at KSU and adjunct assistant professor of horticulture at UK. "Nothing will ever replace tobacco, but things like grapes, paw paws, currents, gooseberries and other orchard type crops can help supplement income from tobacco and help farmers transition."

Pomper said KSU has planted an acre and a half of grapes on its research farm near the Franklin/Anderson county line. With Lover's Leap only two miles away, KSU has been able to partner up with the vineyard to educate participants attending monthly small farm sustainable agriculture workshops.

"Gerry and Ann Holder own Lover's Leap and they have been very cooperative about letting us bring groups out here to show them how a vineyard and winery work," Pomper said.

Ben O'Daniel, Lover's Leap winemaker, said he enjoys having visitors come to the vineyard.

"A lot of people show up to see the vines or help pick just to be a part of the experience," he said. "We always love people coming out who are interested in getting into the industry. Education about the grape and wine industry in general is really half of our job as we see it."

With more people realizing the potential of grapes in Kentucky, there are more grapes being harvested than there are wineries to handle the juice. Pomper said that is an issue the fledgling industry will have to address as it continues to grow to its full potential.

"As an industry now we need to go out the general public and let them know we are here," O'Daniel said. "There are a handful of wineries that have positions in stores, mainly in Louisville and Lexington. No one vineyard has really taken a large niche in the market. Hopefully we will be the ones to do that but we don't want to be alone, we want the entire industry to benefit because the more of us there are the more acknowledgement comes to the industry."

With a rapid increase in the number of vineyards and wineries in Kentucky, there is a large income potential and not just for the growers.  

The grape industry is also very tourism-driven. O'Daniel said most people don't want to drive two hours just to go to one winery; they would rather go to three, four, or even five in the same area. That type of area is developing around Frankfort and Lexington as vineyards and wineries pop up along the Bluegrass Parkway, highway 127 and I-64.

"The American Vintners Association recently put out numbers stating that for every dollar spent at a winery, there is another dollar spent somewhere in the community," O'Daniel said. "That may be for lodging, restaurants or even gas stations. Yes, we're in it to make a living and fulfill our dreams, but we also want to get the community involved. We just want people to enjoy our wines and see the quality that we're making."
Contact:
Kirk Pomper  502-597-5142