It's one thing to learn about science from the pages of a textbook. It's quite another to acquire scientific knowledge through the lens of a microscope.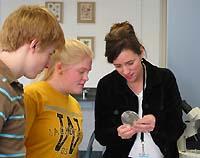 Students in Mary Beth Rouse's biology classes at Woodford County High School are discovering that difference through a University of Kentucky College of Agriculture project that, for the second year in a row, teams UK scientists with middle and high school students to solve a real-life scientific mystery. 

"This is the best possible way to teach the scientific method," said Rouse, a teacher for 16 years. 

This year, the mystery the students are trying to help solve surrounds the Asian lady beetle, aka the ladybug. Although it is considered a pest because it overwinters in huge numbers inside homes, this species of beetle is also a beneficial predator. In 2004, UK entomologists James Harwood and John Obrycki discovered that the Asian lady beetle was infected with a fungus.

"Whenever you see a fungus on a beetle that often means the fungus is going to kill it. Not always, but sometimes," said Blake Newton, youth entomologist at UK and one of the organizers of the project.

"So what we wanted the kids to do is learn about this beetle, learn about the scientific process, and help solve the mystery of how many of these beetles across Kentucky have this fungus," he added.

Rouse's students, as well as Jean Jones' seventh-graders at Harrison County Middle School in Cynthiana and David Huff's sophomores at The June Buchanan School in Pippa Passes, begin their work by collecting and identifying as many ladybugs as they can find (there are 10 species in Kentucky). Then the students check the Asian lady beetles for the fungus and, if present, try to pinpoint on which part of the beetle's body the fungus is located.

"Generally, we do labs that have a set outcome," Rouse said. "The students can manipulate variables, but really the answer has already been discovered somewhere by someone. This project was an opportunity for the kids to ask questions that no one knew the answer to yet." 

That was especially appealing to 16-year-old Trent Goodin, an advanced biology student who participated in the project at WCHS last semester. 

"It was exciting to learn that there are fungi out there that haven't been classified or recognized yet," he said.
In addition, Goodin and classmate Amy Effinger, 16, said they believe the work they completed is important because the data collected will be used by the UK scientists" a fact Newton confirmed.

"It's difficult to say this is the kind of information that can be published (in academic journals), but it's already helped us because we now know the fungus is in all three of the participating counties," Newton said.

"Next year, we would like to take the next step, which is having the students rear these beetles on lab tops in their classrooms, comparing infected vs. uninfected Asian lady beetles, and see the effects," he added.

Carol Hanley, Extension specialist for 4-H youth development and director of education and communication at the Tracy Farmer Center for the Environment, is a former high school science teacher who worked with Newton not only in planning the Asian lady beetle project but in acquiring grant funding. She was also instrumental in the first-year project that focused on the eastern tent caterpillar, the insect associated with Mare Reproductive Loss Syndrome, and would like to see similar projects expanded into classrooms across the state.

"Can you imagine why anyone would want to do science out of a textbook?" she asked. "Science happens every day in our community and our students need to know that."

Hanley said, however, that there is a "lot of work to do" before community-based, hands-on science becomes more commonplace in middle and high school classrooms, including providing opportunities and resources to teachers and shifting the focus away from textbook-centered instruction. 

"We need to teach teachers how to incorporate community-based science into their curriculum. If teachers teach science only from a textbook, kids will think science only happens in a textbook," she said.

This year's project will culminate with students presenting oral and written reports at a UK entomology seminar March 10. According to Rouse, that will be an added bonus to having her students participate in the lady beetle project.

"This gives them the confidence that they can do and write about science," she said.