Joyce Belcher thrives on fix-up projects, so when she was faced with purchasing new bedspreads for the Kentucky Leadership Center, her mind started to race.

"There're 62 rooms, so I've got 62 bedspreads, right? Well, there're 200 beds," she laughed as she remembered her first few weeks on the job as the center's new director. "How could I justify ordering $10,000 worth of bedspreads my first time?" 

The center's name gave her the inspiration she was looking for.

"This is the Kentucky Leadership Center," she said. "I could just visualize going down the hall, and seeing different county names on each door. And I thought, how neat." 

That was the start of what has turned out to be a successful "adopt-a-room" campaign for the University of Kentucky-run facility. The idea of promoting individual Kentucky counties caught on like "grass fire," in Belcher's words, and attracted quite a few takers. To date 47 rooms have been adopted, and not only by county Cooperative Extension offices. Outside groups that use the center and individuals have also signed up to create a variety of rooms that showcase Kentucky.

Room patrons get to choose from three paint colors Belcher provides for the walls. After that, the sky's the limit. Every room takes on the personality of the group that adopts it. Clark County extension office celebrated their county as the home of Ale 8 One, a well-known local soft drink, by using the company's green and yellow colors splashed across bedspreads, curtains and throw pillows. Ale 8 One memorabilia adorns the walls in both the bedroom and the bathroom.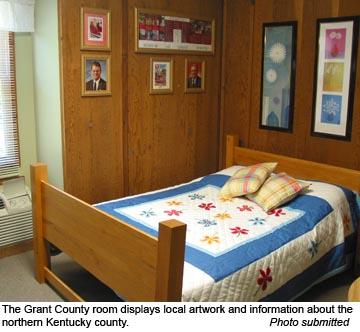 In every adopted room, patrons bring in coordinating bedspreads and curtains, hang prints on the wall that promote their county or suggest the rich artistic thread that runs through Kentucky life. Some counties leave brochures to stir up interest in tourism in their area. Bathrooms are often decorated with prints, small decorative tables and handmade towel racks. Some rooms have hand-finished bedside tables. The Dennis Goodman Room, the only apartment in the center, was adopted by the Jabez Quilters, who enjoy staying there. According to Belcher, the quilting group plans to decorate with handmade quilts and antique furniture.

Belcher thinks her idea is a good way to promote Kentucky to the center's visitors.

"We have a lot of people who come from all over the United States," she said listing groups such as attorneys who come to the center for mock trials, Hospice of the Bluegrass, health departments, arts and crafts workshops and three Elder Hostel groups. She remembers one of the first reactions she got to the newly redecorated rooms.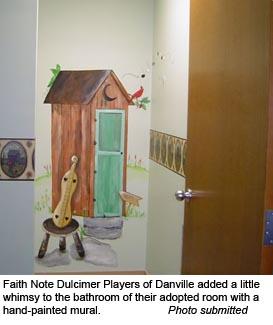 "This couple came from Kansas. They have been coming here for something like 15 years with an Elder Hostel group. The woman said, 'When we turned the key to 212 we just expected a normal room,' but she said, 'Wow, we know where Grant County, Kentucky is, and we know that Skeeter Davis was born there, and we know that Rodger from Survivor lives in Grant County.' She said, 'How wonderful! It was so interesting.'"

That was the intention, Belcher said -- to promote the counties. 

"This didn't cost her (the Grant County extension agent) a lot, because she framed brochures. So it didn't cost her a lot, but it would have me, for every room," she said.

Belcher, who took on the job of center director in October 2006, has other plans for the center. She's working on getting wireless Internet access throughout the entire facility. Currently, it's available in part of the building. 

The next plan on her list centers around a corner by the main entrance – soon to be called the Kentucky Corner. Her idea is to give visitors a chance to take a little bit of Kentucky home with them, by filling it with a small inventory of Kentucky crafts that would be available to purchase.

"There are a lot of crafts right here in this county. It can be small. I'm not trying to make a big profit. I just want to promote Kentucky. I'm hoping to do it by spring of 2008. And then I'm going to rest," she said, laughing.

Anyone who knows Joyce Belcher knows she won't be resting for long before she moves onto her next "fix-up project."

For more information about how to adopt one of the remaining rooms, contact the Kentucky Leadership Center at 270-866-4215.
Contact:
Joyce Belcher, 270-866-4215