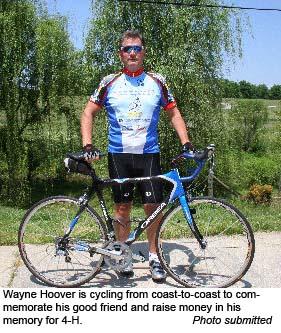 To Wayne Hoover, a cross-country bike trek seems like the perfect way not only to remember and honor Larry W. Turner, his long-time friend who lost his life in the crash of Comair Flight 5191 last August, but to "live like Larry."

On June 2 in San Francisco, Hoover climbs aboard two thin tires and a hard, narrow bicycle seat for the Larry Turner Memorial Cross Country Challenge, a personal journey of remembrance that will last 52 days, cover 3,850 miles and cross 13 states, ending in Portsmouth, New Hampshire. While on the road, he hopes to raise money in Turner's name for the Kentucky 4-H Foundation and, at the same time, inspire 4-H'ers across the state and across the country. 

Turner, who was associate dean for extension in the University of Kentucky College of Agriculture and director of the Kentucky Cooperative Extension Service, often said extension could be described in three words, "people, programs and partnerships." To Hoover, a local businessman, the cross-country challenge seems the perfect way to honor his friend's convictions, requiring, as it does, the support of people and partnerships, and benefiting 4-H programs in the state. The arduousness of the trip will also honor the way Turner, a former 4-H'er, faced his own life struggles, he said.

"I want kids to realize that you can rise above whatever challenges you've got. You can make a difference, not only for yourself and your family, but you can impact your fellow man and society for good in ways you cannot even imagine if you just don't limit yourself, if you just don't look at the restrictions and the negatives that happen every day," he said. "If you look past that, you can really make a difference, and Larry was one of those who did."

Hoover devised the idea of a memorial cross-country bike ride by reflecting on his friend and "how he liked to do things that were different and challenging."

"I knew it would be long; it would be difficult; it would be a challenge. It would be a physical challenge for sure, but as much as anything, it would be a mental challenge," he said, "and I thought, 'that's perfect.'"

Hoover immediately broached the idea with Turner's widow, Lois, and officials with the UK College of Agriculture's development office and extension service. It was agreed that this was the type of "outside the box" thinking that Turner had been known for and it would be a particularly appropriate way to honor his memory.

"This bicycle challenge that Wayne Hoover is undertaking is extraordinary because it not only pays tribute to an inspiring leader, but it also helps raise funds that will benefit Kentucky and its youth. And this furthers the mission and ideals that Dr. Turner represented and worked toward during his life," said Marci Hicks, development director for the UK College of Agriculture.

Joe Kurth, assistant director for UK's 4-H youth development programs, challenged 4-H'ers across the state to participate in fundraising efforts "in memory of Dr. Larry Turner's unwavering support of Kentucky 4-H programs during his years as our associate dean for extension." All funds generated will go to the Kentucky 4-H Foundation for the support of
4-H youth and leadership endeavors "near and dear to the heart of Dr. Turner," Kurth said in an e-mail to Kentucky 4-H agents.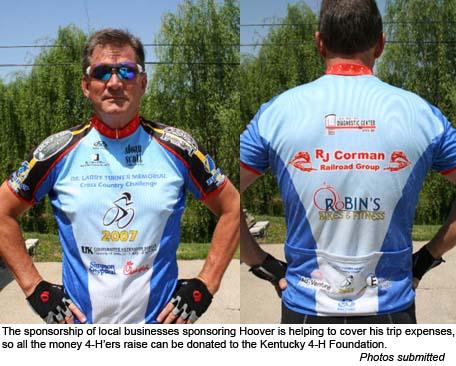 Fundraising will be carried out throughout the summer at various 4-H events, including the upcoming Teen Conference, 4-H judging and skillathon events, state 4-H communications conference, state 4-H horse show and Kentucky State Fair. Collection boxes will be available and pledge cards handed out at a traveling display honoring Turner. Local fundraising activities are also encouraged.

"Live Like Larry" is emblazoned along both side seams of Hoover's cycling jersey, visible to all who see him pass on his long trek from coast to coast. He wants people to notice and learn from that message.

"When you say 'live like Larry,' that's a really high standard. That's a very high standard," he said. "I look at the impact he's had just in the state and it's phenomenal. So across the country, kids can learn from an example like him. The saddest part of all of this, besides obviously not having him here, is the impact that he would have had, given another five, 10 years, would have really been phenomenal."

For Hoover, though, the hope is that through his journey and through the memories of Turner's family and many friends and colleagues, others will be encouraged to follow in his path.

"If we can keep that legacy going," he said, "and light that fire in some other kids, maybe 10, 15 years down the road… if it's just one person, it's worth it."

Click on any of the linked text in this article to read Hoover's daily trip blog, and to find out more information about Larry Turner and the Larry Turner Memorial Cross Country Challenge, or contact any county 4-H youth development extension agent.
Contact:
Wayne Hoover, 859-983-1382, Marci Hicks, 859-257-7200, Joseph Kurth, 859-257-5605