Kentucky beef producers are finding ways to be innovative and creative to market their product to consumers. To help in that effort, agricultural economics students at the University of Kentucky College of Agriculture conducted a consumer survey to determine how willing consumers are to pay a little bit more for a locally -raised steak.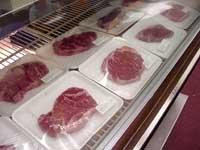 "We are looking at value-added opportunities for Kentucky beef producers and one way to add value to beef is through locally-produced steak or other beef products," said Leigh Maynard, UK agricultural economist and professor of the class that conducted the steak survey. "So basically what we want to know is if consumers had a choice between a regular grocery brand steak or a Kentucky-produced steak -- how much more would they be willing to pay?"
The research was funded by the Kentucky Cattleman's Association and the Five State Beef Initiative. After organizers gathered more than 225 participants, they set up a simulated meat store in the C.E. Barnhart building on the UK campus in early April.
"We gave each participant a $20 voucher to use in the store," said Leigh Maynard, "We tried to make it as real as possible and give them a lot of choices. At the end, they were able to take home their choice."
Maynard said participants chose between premium quality steaks, lean steaks, locally-produced steaks and guaranteed-tender steaks. Prices varied, much like an actual store. Each consumer chose their steak and proceeded to a checkout line where they would fill out the survey.
After the surveys were completed, students compiled data and found some interesting responses according to ag. econ. graduate student Jason Hartell. He said nearly half of the participants were lifelong residents of Kentucky and indicated they eat steak in their households between two and four times each month.
The majority of those surveyed said they did not expect there to be a difference in quality or taste of Kentucky-grown beef.
"We wanted to understand better about how previous awareness of a locally produced product translated into purchasing decisions," Hartell said. "In part, it can help us understand what purchases may be of a trial type relative to purchases based on previous exposure."
The survey indicated that among those who have not seen locally produced steak in stores, 11 percent choose to purchase one package of local steak in the simulated market.
"Alternatively, of those participants who selected two packages of locally produced steak in our simulated market, 64 percent had not seen it in stores previously, while 29 percent had seen it in stores and have purchased it before," he said.
Maynard and his students are hopeful about the possibility of locally-produced beef becoming something consumers choose not only because of their state pride but also because of superior taste and quality. The students will continue their data analysis and hope to have more results in the near future.
Contact:
Leigh Maynard 859-257-7286