There was dancing, ball tosses, karate demonstrations and more beneath the shady trees of Moreland Park in celebration of the first day of summer and to encourage an active lifestyle.

"Today we are having the Longest Day of Play, which is a communitywide physical fitness extravaganza," said Ashlee Rzyczycki, University of Kentucky Cooperative Extension Service family and consumer sciences agent for Daviess County. "What we are trying to do is create an awareness of physical activities that are taking place in our community, whether that is organizations or businesses that offer physical activities for people to do personally or as a family. We are trying to create an awareness of those opportunities."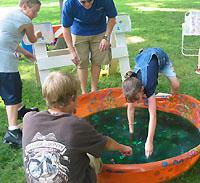 Everything from scuba diving to Master Gardeners was represented at booths along the walking trail at the city park. Rzyczycki said physical activity it is not limited to aerobics and 5-K runs; for some gardening is an important means for being active.

"We are just encouraging people to get out and get moving, using the extra daylight hours of the longest day of the year," she said.

Carolyn Records and her three children, who live near the park, were among the many families taking in the June 21 festivities. 

"The kids enjoy doing different activities," she said. "Being physically active is important for everybody to be healthy." 

Rzyczycki said the Longest Day of Play is a Centers for Disease Control and Prevention idea she learned of while attending a physical activity workshop. She said communities hold the event in different ways and she modeled the Owensboro event after one in Boyd County. 

"For them, it's been successful so I thought why invent something we know has been tried and tested," she said.

Rzyczycki said the event has been embraced by many community partners. There were about 15 community partners for the inaugural event and 35 booths along the walking trail. There were other activities as well, including a bicycle rodeo, three-point shootout, obstacle course and demonstrations.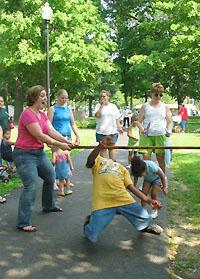 A survey was part of the packet participants received and Rzyczycki said they hope to find out if people learned of new activities they could participate in and if they plan to use them. A follow-up will be done in three months to see if they are continuing to be active.

Tara Boling, of the Green River Area Development District, was a member of the planning committee and helped sign up vendors.

"I work with the grandparents raising grandchildren program, and I like to do any kind of program that promotes them and gives them the opportunity to be involved with their grandchildren," she said. "A lot of them are low income so the fact that it is free and right in the center of town is really good."

Randy Bergman, a professor in Kentucky Wesleyan College's department of physical education and health, also helped plan the event that organizers would like to become an annual offering.

"We are trying to be involved in the community as much as possible and trying to get kids, adults and families active and health oriented," he said. "This is something that is pretty easy to get the community involved in and get those families out and let them know what is available in the community so they stay active, not just for today but hopefully for the rest of their lifetime."
Contact:
Ashlee Rzyczycki, 270-685-8480