September is shrimp harvesting time for the Southern Kentucky Aquaculture Cooperative. This year's harvest is expected to be an excellent one.
Educating consumers and marketing the freshwater shrimp is the biggest challenge, say cooperative members. Jack Ewing, the agriculture and natural resources agent for the University of Kentucky Cooperative Extension Service in Grayson County, agrees. Ewing has worked closely with the group of 19 farmers from eight counties.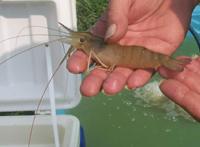 "Right now, the market is so small it is hard to find anything but pondside sales," said Melissa Miller whose husband Anford is president of the cooperative. "So we drain the ponds, chill the shrimp and you take them home. They are that fresh. One restaurant told us our product was too good for their restaurant, they needed to be smaller."
Miller said she and her husband got into shrimp farming as a hobby and were not aware of the marketing challenges that this new enterprise had. The Millers said they are lucky in that their Grayson County farm is near Nolin Lake and they have no trouble finding buyers.
The lack of markets is something that is being worked on by university and state officials, but it is difficult according to Miller and other cooperative members. She said in addition to Ewing, they have developed a good working relationship with aquaculture specialists at Kentucky State University and representatives from the state Department of Agriculture.
Cooperative members try to help one another in their marketing. If they run out of shrimp, then they will get buyers in touch with another member.
"My husband says don't invest any more than you can't afford to lose," Miller said.
"What potential producers need to know is that marketing is the most difficult element of this," Ewing said. "It is a very perishable product and you need to have clientele that want this. It is such a different product from the shrimp you can find in the store, most of which is imported. This shrimp is grown in a pristine environment."
Consumers need to be aware of the differences between the freshwater shrimp and shrimp they may buy at the store, Miller said.
"These are fresh, we put no chemicals in the water, we only use organic materials, we do not put steroids in them," she said.
Ewing said a successful shrimp harvest is the byproduct of water quality management. If a producer can't learn that, they are done for, he said. There is no room for mistakes.
This year's harvest should go a little more smoothly than the 2001 harvest thanks to a $3,000 matching grant the cooperative received from state tobacco settlement funds to buy water testing equipment and another $2,500 grant for harvest equipment.
The cooperative has been a great help in terms of providing members with everything from educational opportunities to someone to share help, provide moral support or console one another when things don't go well.
Earl Day, another member from Grayson County, quit raising tobacco and cattle and decided to go into shrimp production.
"It seemed like tobacco was going out and this was going to be a new crop, so we are trying to make a go of it," he said. "Mostly what we need is a market. The hardest part of raising shrimp is selling them."
Some of the cooperative are certified to process the shrimp but they do not have the facility to do it. Miller said the ability to process would be nice because that would allow them to sell shrimp throughout the year.
"I'd like to be able to sell shrimp at Christmastime," Day said.
Despite the challenges, Miller and other members of the cooperative say they love shrimp farming.
"I can't wait to get started in the spring and I can't wait to get rid of them in the fall," said Joe Weber, an Edmonson County cooperative member.
For more information about the Southern Kentucky Aquaculture Cooperative and its members' harvest dates visit the Grayson County Extension web site at www.ca.uky.edu/grayson/home/aquaculture.htm .
Contact:
Jack Ewing, (270) 259-3492