There is a belief in Bell County that if a person has a good thing going, they should share that idea with others. That's just what's happening with a community organic gardening project. Extension agents from the Bell County Cooperative Extension Service have tapped into one of their volunteer leaders to help facilitate the project. 

Pat Biggerstaff, a self-taught organic farmer, is a firm believer in the raised-bed garden concept. She lives in Middlesboro and has approximately 40 raised beds on a corner lot where she grows a variety of produce including fruit trees. The 4-foot-by-10-foot beds are equal to 50 or 60 feet of a field row. Because of her success with raised beds, she is taking the concept to others with the help of the Bell County Extension Service. 

"What we are trying to do is bring folks into Pat's place, do an educational program through the extension office and try to get people to go out and garden on their own," said Stacy White, University of Kentucky extension agent for agriculture and natural resources in Bell County. "We have been doing that for two or three years now."

This year the program has really taken off, with several people starting raised-bed gardens in their backyards in Bell County and nearby communities in bordering Tennessee.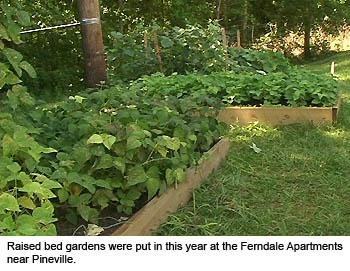 "I know for a fact that there is a garden in New Tazewell, Tenn.; there is one in Harrogate, Tenn.; there is one over in Speedwell, Tenn. and there is even one across the street from me," Biggerstaff said.

Part of that widespread success is attributed to Biggerstaff's organic gardening column which appears in many local newspapers.

Bell County extension personnel and Biggerstaff are proud of the raised-bed gardens they helped start at the Ferndale Housing Project in Pineville this spring. With the help of the project's maintenance staff, they put in three beds that have yielded onions, beans and soon tomatoes. 

In a fourth bed, started with some left over dirt from the first two beds, residents planted cucumbers and squash.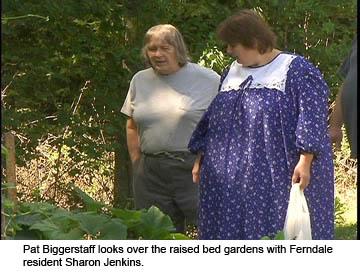 Ferndale resident Sharon Jenkins is excited about the garden and is learning from Biggerstaff and others in the Bell County extension office.

"It gives us something to talk about," Jenkins said. "It's just really been a boost here, it's been wonderful." 

The project has been a team effort in the Bell County Extension office. Food Stamp Nutrition Education Program assistants Gail Brock and Brenda Harris have worked together to teach people about good nutrition and cooking classes. Rebecca Sharp, Bell County extension agent for family and consumer sciences, plans to teach canning classes as more produce is harvested.

Biggerstaff believes people of her generation should pass the knowledge of gardening on before it becomes a lost art and that is what she is trying to do with willing participants.

"We have just got to pass this word on now while we can and we are here to do it," Biggerstaff said.

An example of willing participants is Blaine Boatright and his son Daniel, who put in one raised bed in the backyard of their Middlesboro home. It was their first attempt at gardening, and they have successfully grown green beans, which they have already enjoyed. The Boatrights also have three tomato plants growing in an old tire in their front yard. Blaine Boatright said he would not have gotten into gardening without Biggerstaff's encouragement.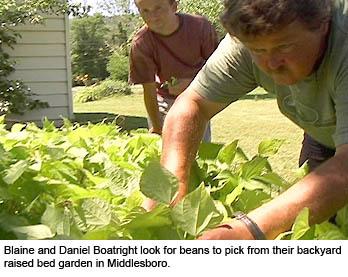 "The beans have been mighty tasty and we look forward to having tomatoes," he said. 

White said the extension service purchased plants that Biggerstaff started for the project at her home in a greenhouse. Seed and other plants also were donated. 

"We couldn't do this without Pat," White said. "She's got the know-how and she has done it forever, and she's willing to give her knowledge to anybody and everybody that comes along." 
Contact:
Stacy White, 606-337-2376