Brilliant reds, soft pinks and muted whites have Country Place Greenhouses awash in color. Inside the Washington County greenhouses, workers dance around the brightly colored poinsettias like bees as they ready them for holiday delivery.
The plants - some 170,000 - will make their way to groups across the state who have sold them as fund-raisers. 4-H clubs, FFA, bands, soccer teams, Boy Scouts, cheerleaders, church and civic groups across the state order from Bernie Bourbeau's supplies. The business also helps supply some Kroger stores with poinsettias and sells a few retail.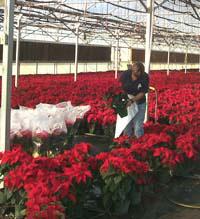 Bourbeau began his business in 1972 growing tomatoes for the fresh market and his wife started growing some plants. The plants started to sell better than the ripe tomatoes so they made the move over to more plants and out of vegetables.
"Of course, I also worked as a county agent for 4-H at that time, and as the business grew we started growing poinsettias and then started lining up business with band groups and other groups," he said.
After 16 years, Bourbeau left the Cooperative Extension Service to devote his attention to Country Place Greenhouses.
"I had the contacts and knew 4-H clubs were always looking for ways to make money. Poinsettias turned out to be an excellent one in that it provides a very useful plant to people during this time of the year and did not maybe cause as much of a sales problem as other items you might try to sell," he said. "So we tried to key in on groups across Kentucky. We started with 4-Hers and have gone across the state from one end to the other and we've got one county in Ohio where an agent from Kentucky moved. So, it's spread that way, from one group to another."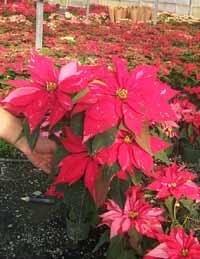 The poinsettia is the largest single fund-raising plant the greenhouse grows with about 80 percent of its plants going to fund-raising groups.
"It's been a good fund-raiser for all the groups," he said. "We have a 100 percent replacement policy if there's a problem, but we replace very few."
Reds are still the most popular poinsettia making up about 50 percent of the orders. Then, there's the pinks, whites, marble and the jingle bells. Jingle bells, a red plant with sprinkles of pink is waning some in popularity, he said, probably because of the new varieties coming into the market such as winter rose, plum pudding, carousel, and silver star.
"The whole nature of the business has changed, people want something different than what they may be able to get from other sources and that is what the groups supply them. We provide a lot of different varieties which can be somewhat of a headache, but it gives them the opportunity to sell to people something that nobody else has to a great degree."
There are 21 poinsettia varieties in the Country Place greenhouses, said Kathleen Smith, head grower. Several of those are new this year.
"The trend runs with the decorations in the homes," she said. "It depends on what colors they are using. And it changes every year."
The business generally use the previous year's orders to determine the bulk of what it will grow the following year, she said.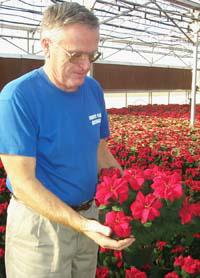 In determining varieties, they look for ones that people like, that's the key to it. "We try to move with the varieties that have the most acceptance as well as are strong with the ability to withstand movement that has a nice flow down appearance," Bourbeau said.
Bourbeau maintains a strong relationship with the University of Kentucky College of Agriculture.
"The university has been invaluable in providing us information on cultural practices and they have a great plant pathology lab. The work with the university has been a neat deal over the years, it's been very positive," he said.
Bob Anderson, a University of Kentucky Extension horticulture specialist, said poinsettia varieties have changed and expanded in the past couple of decades since the time when there were only three varieties of poinsettias available in Kentucky. Today, more than 100 varieties exist. The new varieties are what drives the market, he said.
Anderson said he has known Bourbeau for more than 20 years and visits his Springfield operations two to four times a year. The two discuss problems and Bourbeau uses Anderson to bounce ideas off.
UK only does pieces of the activities taking place at Bourbeau's facilities, Anderson said. To stay up-to-date on the latest information, he said, he visits with growers and other states. "That's what is great about extension," Anderson said.
Growing poinsettias and other horticulture crops is more difficult than growing tobacco, Anderson cautions. With tobacco, a farmer has a guaranteed market whereas with poinsettias if it doesn't meet muster, it is thrown away.
The plants inside Bourbeau's greenhouses are started from rooted cuttings brought in from a California company in August. They have to be pinched and cared for from there.
"This is the critical time, because everybody wants them right now," he said. "This year we were concerned that we wouldn't get them colored up as much as we wanted, but we've managed to stay just ahead of the storm."
Thanksgiving was earlier than usual this year resulting in the shipping process being moved up one week which really is too early, he said. Normally, shipping starts Nov. 30.
Poinsettias are temperamental. The right temperature and fertilizer program must be maintained.
"Just when you think you really are smart and know all you need to know about them, you find out you're not very smart at all," Bourbeau said. "They are a plant that will prove to you that you still have a lot to learn in life. It's not like a hanging basket where you have two months to sell in and can correct yourself, but with poinsettias you've only got two weeks."
There are a number a small growing operations in the state, in addition to Bourbeau, that grow poinsettias in large quantities for the wholesale market. In addition, a Louisville grower produces about three quarters of a million of the rooted cuttings for other growers as well as finishing some 80,000.
For more information on growing poinsettias or caring for them in your home, contact the local county Extension office.
Contact:
Bernie Bourbeau, (859) 336-7741