Basic horse care and riding skills were among the options for West Kentucky 4-H Camp members for the first time this year thanks to a pilot program between the University of Kentucky Cooperative Extension Service and Murray State University's equine program.

"We are real excited about this opportunity," said Ginny Harper, Calloway County Extension agent for 4-H youth development. "We did a pilot project this year for two camping weeks where kids had a chance to work with and learn beginner horsemanship with an instructor from Murray State University. We had an intern from Murray State who served as the instructor, and we were also able to use their horses.

"These horses are 18 to 20 years old and are used for riding lessons and being a part of a teaching program," she said. "It's a great collaborative project with their School of Agriculture."

West Kentucky 4-H Camp is open to 4-Hers in 36 western Kentucky counties. Harper said 4-H agents, community members and people affiliated with the two universities were among the many who worked to make the project a reality.

Sixty 4-Hers each week had a chance to participate in morning classes, and in the afternoon another 60 campers participated in pleasure riding. To be a part of the class, students had to pay a small additional fee, which Harper hopes will help the horse program become self-sustaining.

A Kentucky Equine Education Program grant and a 4-H Venture grant were used to get the program under way. Temporary holding facilities were put in place for the animals this year,
and permanent facilities will be constructed in time for camp in 2007. The permanent facilities will allow them to offer the classes throughout the camping season as well as give them the opportunity to have weekend camps for additional young people.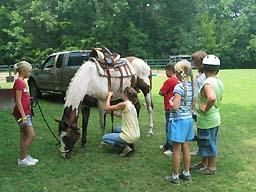 Horses are a very popular part of 4-H programs across the state. Harper said offering the classes at camp will tap young people who are not already participating in the horse clubs. 

"It may be a springboard for a 4-H horse project for them in the future," she said.

Kelley Murphy, a member of Murray State's equestrian team and a pre-veterinary student, was the instructor for this year's pilot program.

"It is a lot of basic horsemanship – care of the horse, safety around the horse, horse behavior and a little basic riding as well," she said. "I was so excited about this project. I'm originally from Maryland and have been teaching summer camps there for a few years, and this was my first 4-H camp. It has been a lot of fun."

This year, Murphy said they had six horses at camp and hope to have more next year.

"I've had a lot of help from the counselors," she said. "A lot of the teen helpers helped me with the horses, and then the kids also came out. They love to come out and help groom the horses and feed them. It has definitely been worthwhile, and I think it will be a very valuable program here at 4-H camp."

Alex Hale, a camper from Christian County, said the classes have been helpful for him to care for his own horse that he calls "Bucking Horse – because if you sit on him, he'll go wild. My grandparents usually feed him, but now I can start feeding him by myself."
Contact:
Ginny Harper, 270-753-1452