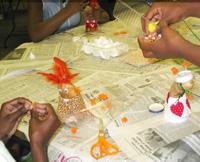 Kings, queens, brides, musicians and more came to life at the New Zion Community Resource Center as summer campers tried their creativity using a raw potato as their canvas.
The program was conducted by members of JeffersonCounty staff of the University of Kentucky Cooperative Extension Service . The young people received information on the nutritional value of potatoes, different ways to prepare them, and where potatoes come from. Pat Dean, Extension horticulture assistant, brought a potato plant and explained how they are grown.
Charlene Thomas, Jefferson County Expanded Foods and Nutrition Education Program assistant, provides nutritional programs at the camp and was looking for something different when she found the potato pals idea in a creative cooking book.
"I thought it would be something good for the kids to do and let us see how creative they are," she said. "We used material, fruits and vegetables, buttons and beads - just whatever we could find to make it accessible to the children."
Each child was given a potato along with a plastic container filled with supplies and it was up to the children to decide what to do with their potato. Afterward, each potato was introduced through a "fashion show." Prizes were awarded in four categories – most beautiful, the beast, best animal and most creative. Plus, one grand prize winner was selected.
"They are more creative than I realized," Thomas said. "You never know what they can do until you give them everything to work with."
Carolyn R. Belmar, camp program manager, said the summer day camp is for children aged six through twelve. Seventy-seven youth are enrolled.
Belmar calls the program Potato Pals, with the pals referring to the local police and the support it gives to the center. One of the local officers acted as a judge for the competition.
"The Cooperative Extension Service has been here to do quite a few programs – the nutrition programs with Charlene Thomas and the horticulture programs under Pat Dean," she said. "The two of them came together today to do this. We are really pleased with it."
Belmar said she's been involved with Cooperative Extension programming with Thomas since the early 1980s and prior to that through 4-H programs.
"The programs are wonderful," she said.
Belmar said the students have the creativity; they just need the opportunity to use a different medium.
"Who would have ever thought they could take a potato and turned it into something like they have," she said. "They are very creative and original in their designs. It's just been a wonderful experience."
                                        -30-
Contact:
Writer: Laura Skillman 270-365-7541 ext. 278
Source: Charlene Thomas, 502-425-4482