Barns of all shapes and sizes dot Kentucky's rural landscape providing a sense of the past and if one group has its way, a sense of the future as well.

The Central Kentucky Heartland Rural Heritage Development Initiative is exploring preservation-based rural economic development, including farm building and farmland preservation. The initiative brought in a team of national and regional experts to tour the area and formulate an action plan, said Rick Greenwell, Washington County Extension agent for agriculture and natural resources for the University of Kentucky Cooperative Extension Service and a member of the initiative's steering committee.

"We want to come out of this with strategies for moving forward as a region to protect our farms and provide more economic opportunities," he said.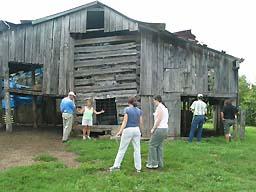 Kentucky is one of two areas in the country that is part of a National Trust for Historic Preservation pilot project that examines using preservation ideas and principles as economic development tools in rural areas, said Joanna Hinton, executive director of Preservation Kentucky, a statewide nonprofit organization focusing on preservation.

The National Trust received a $750,000 grant from the W.K. Kellogg Foundation to implement the three-year pilot program in the two locations. The grant funds are being matched with local money and administered through Preservation Kentucky. The Kentucky Heritage Council and Dry Stone Conservancy are also partners in the initiative.

"We are focusing on heritage tourism, historic preservation, farmland preservation and local business development," Hinton said. "The National Trust has a program called Barn Again! that it runs with Successful Farming magazine. A part of this is looking at barns and adaptive reuses of them so hopefully they can continue to be useful on the farm and a part of the rural landscape."

Their efforts began last week with four days of touring locations in Nelson, LaRue, Marion, Mercer, Boyle, Green, Taylor and Washington counties. The tours included stops at two 
farms in each county. The farms represented a variety of agricultural enterprises including agritourism, produce markets and large tobacco, beef and dairy operations. Barns on the tour included some in need of preservation and others that have been renovated and adapted to new uses.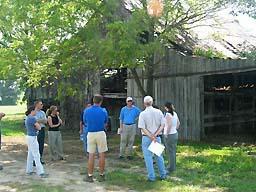 The eight counties were selected, Hinton said, based on their possible attraction to a national audience. With the bicentennial of Abraham Lincoln's birth coming, they decided to use that as a hook, she said. Most of the counties have some tie to Lincoln, such as LaRue County where he was born. Their economies are similar, good routes exist between the contiguous counties and tourist attractions such as Shaker Village at Pleasant Hill, Bardstown and Lincoln's Birthplace help to tie it together.

The rural resource team visit was coordinated by Greenwell, who is a member of the steering committee overseeing the entire project, as well as a member of the resource team. He used contacts with colleagues in local Extension offices to help find the locations visited by the resource team. Once the findings are complete, they hope to use the Extension Service network as a means get the word out.

Greenwell said he became involved in the program after speaking about agriculture to a committee reviewing applications from states that had applied to be a part of the pilot. He said the project is a natural fit for Extension with its focus on rural community development, agritourism and farm preservation.

"Everyone you talk to says they want to preserve farmland, but aren't doing anything about it," he said. "Well, this is an effort to do something about it."

The state has a leg up on many others in preserving farm structures and converting them to modern uses, he said, thanks to the agritourism grants through the Kentucky Agricultural Development Board and Phase I tobacco money. Money from these programs can be used to make improvements and revamp tobacco barns for new uses.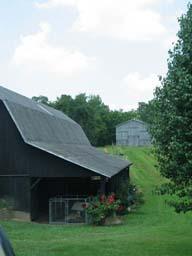 "Probably the outcome will be a set of recommendations and a packet we can take to the legislature," he said. "The rest will be recommendations on what individuals can do to help in the preservation effort either on their farm or in their rural community." 

Hinton said after the three-year pilot is concluded they hope to have learned things that can be useful for all areas of Kentucky. 

National resource team members are Gerry Cohn, southeast director, American Farmland Trust and Charles Law, University of Wisconsin – Extension and president of the National Barn Alliance. Regional members include Greenwell, Jan Johnston, Bardstown-Nelson County Planning Department and Bill McCloskey, Governor's Office of Agricultural Policy. Amy Sparrow Potts, field representative for the central Kentucky initiative is assisting Greenwell with team coordination. Colorado resident Jim Lindberg, rural heritage coordinator for the National Trust is the resource team leader.

"It's really exciting to be in Kentucky because I've been hearing about what's going on here and to see it firsthand is really important," Lindberg said. "We have recognized that in rural communities around the country that rural America is changing. In some areas there's a lot of growth and develop; in other areas there's a change in the farm economy that is taking people off the land and we need to understand that and be cognizant of how that is affecting heritage and the use of structures.

"One of the things we are learning through this site visit is how the rural economy is changing here and what impact that is having on historic places and what are some things that might be tested or tried or developed that could bring not only economic revitalization, but also help save historic places – barns, farmland, farmscapes," Lindberg said. "One thing we've learned in preservation is the best way to save a building is to find a use for it. If there is a productive use for these structures they have a lot better chance of staying on the landscape and there is a real desire in rural areas to have a strong economy."

Kentucky is seeing shifts in its rural structure because of changes in tobacco production and growth spreading into areas that were previously rural. The team is getting a chance to see that play out, he said.

"What I've been struck with is, first of all, just the richness of the landscape and the layers of history," Lindberg said. "I've also been struck by the creative approaches we've been seeing and the passion of the people we've talked to for their home and property."
Contact:
Rick Greenwell, 859-336-7741, Amy Sparrow Potts, 270-358-9069