As children played in wading pools filled with corn, made ice cream in bags and rode ponies, adults were taking in a cooking school and learning where they could buy locally grown products and visit a farm.

The recent Pride of Kentucky Showcase highlighted "Kentucky Farms are Fun" the state's agritourism theme. Businesses in the Cave Region Agritourism area participated in the annual event that drew hundreds of children and adults to the L.D. Brown Exposition Center. 

Wanda Grayson, with Lickskillet 1779 in Olmstead, was one of the agritourism vendors at the event. Grayson's farm offers theme gardens and greenhouses, and sells at the Logan County farmers market.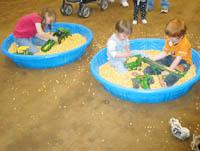 "We are proud of Kentucky and we want people to know that," she said. "We want people to know that what we raise, we sell. This is important for promotion and to make contacts."

The showcase was sponsored by Cave Region Agritourism, The University of Kentucky Cooperative Extension Service, Kentucky Farm Bureau, Kentucky Agritourism Council and local businesses.

Joanna Coles, Warren County Extension agent for agricultural and natural resources, and Janet Johnson, Allen County Extension agent for family and consumer sciences, co-chaired the event. Businesses from about 12 Kentucky counties were at this year's showcase.

Coles said the concept for the event is to bring all the agritourism businesses together to market them as one group so families can come in and see what there is to visit throughout south central Kentucky. The showcase gives children a taste of some of the fun activities that are taking place at agritourism enterprises. A cooking school also highlighted Kentucky products and where they could be found.

"We really have a wealth of enterprises here that you can come look for mini vacation ideas or just day trips that are relatively inexpensive in this county or the next county and visit your neighbors and promote Kentucky products," she said. 

There are a mix of businesses in the region where you can buy locally grown produce at the farm as well as farms that offer additional entertainment such as hayrides, horseback riding, festivals and other activities, Coles said.

The event has evolved from its beginning, which happened about the same time as the tobacco settlement agreement. People were being encouraged to cut tobacco quotas and many were looking to diversify, Johnson said.

That resulted in the Farm to Table program which brought producers and consumers together to strengthen that relationship, she said. As producers began to see the opportunities in agritourism and expanded their businesses, the program evolved into what it is today.

David Dennison, of Mammoth Cave Transplants in Brownsville, has been participating in the Pride of Kentucky Showcases since its inception. The greenhouse operation produces primarily flowers.

"We have found this to be very good for our business," he said. "We get to meet the people and they can look at our flowers and talk to us and we can invite them up to our greenhouses. I think a lot of people are taking a look at agritourism. They've seen some successes from other folks and they want to do some things like that."
Contact:
Joanna Coles, (270) 842-1681, Janet Johnson, (270) 237-3146