It's commonly accepted that children who grow up with actively involved fathers do better in school, build better relationships and grow into more successful adults. It's also believed that reading to children at an early age stirs their imagination, enhances their vocabularies and helps them learn about the world around them.

It stands to reason, then, that children whose fathers read to them on a daily basis reap twice the rewards. That's what FRED – Fathers Reading Every Day – is all about: encouraging fathers and other male role models to take a more active role in children's lives through daily reading and storytelling.

"This program is set up … so that the father or father figure in the family can bond with the kids through reading," said Chuck Stamper, east region program and development coordinator for the University of Kentucky Cooperative Extension Service. "The learning that goes on … has been wonderful. But for me, to get the benefit of families working together and bonding and communicating, that's the most important aspect."

Stamper has seen firsthand FRED's success. He initiated the program in Floyd County two years ago while he was an Extension agent for 4-H and youth development there. About 250 children were involved. Now, with funds from a 4-H Venture Grant, Stamper is overseeing the program in 12 eastern Kentucky counties where low literacy levels "expose an even greater need," he said.

"We want to build the literacy levels of our kids in our region, but also we want to help fathers increase their vocabulary skills through this program. The parent can learn right along with the kid," he said.

Additionally, Stamper said, "we wanted to do this program to show, yes, fathers are interested and are willing to learn with their kids – to create that bonding atmosphere in the home."

The FRED program was developed by Texas Cooperative Extension. Family economics specialist Lynn Bourland White came up with the concept and the program was named after her father – Fred Bourland – who read to his own children as they were growing up.

"The father of three daughters, Fred firmly believed that reading opened the door of opportunity for himself and his children and that reading can do the same for others," according to the FRED Web site.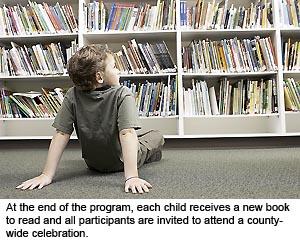 Participating fathers, grandfathers, brothers and other male role models are encouraged to read to children a minimum of 15 minutes a day for the first two weeks and 30 minutes a day for the last two weeks. They record the number of books read and the amount of time spent reading to children in a log provided by Extension. At the end of the program, each child receives a new book to read and all participants are invited to attend a county-wide celebration.

Originally, FRED was geared to 4-H eligible children, Stamper said. But the eastern Kentucky program is offered to any child in preschool through middle/junior high school. 
"We've got some counties going to the schools and collaborating with their family resource centers. We've got some working with their public library. Some are going through day care centers or after-school programs," Stamper said.

Raven Ford, Extension agent for 4-H and Youth Development in Rowan County, is one who has brought 4-H and local schools together to sponsor the project.

"Reading literacy is an important factor in our community and this program is another benefit for our families," Ford said. "When approaching the school principals and guidance counselors, they were very excited about implementing this program at their school. We have about 20 to 25 families who are participating."

Pam Hay, 4-H and Youth Development agent in Lawrence County, said the program appealed to her because of the "special bond" she had with her own father. "Everything we did was a learning experience …," Hay said. She is partnering with elementary schools in Lawrence County to offer the program.

"We have such a large county, so we divided it up into three sections along with the elementary schools," she said. "Reading, being read to, discussion of the story during or at the end, crafts and cooking can all be worked into the program."

Other counties participating in FRED are Breathitt, Carter, Floyd, Laurel, Magoffin, Mason, Perry, Pike and Wolfe. Soon, Stamper said, he hopes to acquire funding to replicate the program statewide.
Contact:
Chuck Stamper, 859-257-9511, ext. 237, Raven Ford, 606-784-5457, Pam Hay, 606-638-9495