Seventh grade students at Edmonson County Middle School get a dose of reality through a program that shows them the consequences their actions can have on their lives.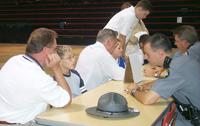 The STOP program, Students Targeting Outside Pressures, was developed by the Edmonson County Leadership class of 1999, which is operated by the county office of the University of Kentucky Cooperative Extension Service.
The program was developed because of incidences at the middle school where police were being called in, said Christy Ramey, Edmonson County Extension agent for Family and Consumer Sciences.
"We wanted to do something to make an impression on the kids to hopefully stay out of trouble and to reduce the number of times the police had to be called to the middle school," she said. "This program was developed in a Reality Store setting where we ask principals, school board members, police, lawyers, judges, court designated workers and parents to participate."
Each student picks up a different scenario that shows what he or she has done. These include such things as vandalism, computer hacking, threatening a teacher, assault, drug possession and sexual harassment. The scenarios are all real events that have happened somewhere in the Barren River Area.
The parent volunteers act as the child's parent and discuss with them how their family would feel if the child were to commit an offense. Depending on their scenario, they may have to go before the principal or school board. They also could have to talk with the police and legal counsel. The students also are given a list of things they can use to combat peer pressure during a debriefing session conducted by Extension and the Youth Service Center.
Gena Yoakem has been a parent volunteer since the program began. Her children have all graduated, but she volunteers because she believes the program makes a difference.
"They come in here thinking it's not going to be that big a deal, then when we get serious their heart starts racing and their breathing gets heavy and they say this is harder than they thought," she said. "That is the intention, they are supposed to know what it is actually like if they where in that situation and what would happen to them."
Craig Cassady discovered that actions have consequences after he completed his scenario. Craig's fictional offenses began with throwing paper wads at a student he didn't like and escalated to him refusing to do an assignment and threatening the teacher.
"I had to go see the principal, school board and I got expelled and put into the alternative learning center and will have to go back before the board and see if I have to go to jail or not," he said. "I learned that you can get in trouble and you should stay in line."
Craig said students take it seriously. Sitting down before the school board is scary even if it is not real, he noted.
"I learned that crime doesn't pay and that if you do something bad, you are going to get an even worse punishment," he said.          
Craig's mother, Jo Ann Cassady, who also volunteers, said STOP is a great program.
"The kids that come in laughing, by the time they are done they aren't laughing and they really do take it seriously," she said. "I think they learn a lot from it. I hear it makes a difference."
School counselor Denise Johnson said it is a wonderful program that she would recommend to other schools.
"One thing that I see is kids being excited and talking about it once it is over," she said. "I just heard a comment from one student, 'I'm glad I didn't really do that.' "
Johnson said anytime you let students go through something it has more effect than just reading about it.
"We look forward to it every year," she said.
Contact:
Christy Ramey, (270) 597-3628