Amid shrieks of excitement and surprise, the youngsters dug into the dirt at Harrison Street Missionary Baptist Church, planting flowers they had propagated and finding a bug or two in the process.

The inner city youth were participants in Youth Life Skills-Vocational Skills Workshops aimed at teaching them basic life skills. The program is a joint project of the McCracken County office of the University of Kentucky Cooperative Extension Service and the church. This is the second year the church and Extension have partnered together to offer the program, said Jana Wilson, youth director at Harrison Street Missionary Baptist Church.

"The whole point of the program is to teach the youth in our community some basic life skills," Wilson said. "It's something to give them some hands-on experience. Something that they can use, maybe have an interest in, when they go to college or when they grow up."

As part of the program, Extension horticulture agent Dava Hayden and members of the Purchase Area Master Gardeners program conducted the Plant a Seed program. The idea was to let the youth see how plants are produced through seeds and propagation and to give them the experience of growing something on their own, Hayden said.

Over the course of six weeks, the youth learned how vegetables and flowers are produced, how to prepare vegetables and fruits to eat, how farmers make a living off their land, how bugs, birds and bees help in plant pollination, and how to install flowers in the landscape.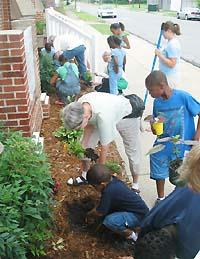 The students visited the Purchase Area Master Gardeners' demonstration garden as well as a produce farm and retail outlet. At the farm, the children were able to harvest vegetables and take them back to the church for taste testing.

"While we were at Schmit Farms, they harvested beets themselves and were so excited about harvesting that they took them out of the soil and ate them – soil and everything," Hayden said. "They were proud to be able to harvest them."

The children also sampled broccoli and cheese, squash, cabbage, corn on the cob, candied beets and watermelon. Everyone sampled the vegetables, with cabbage being the least favorite.

"The overall goal is to get these kids exposed to something they may not otherwise be exposed to," Hayden said. "Let them be aware that healthy eating is important and healthy living is important and there are fun ways to do both."
Contact:
Dava Hayden, 270-554-9520