Homespun creations have always been a tradition in the mountains of east Kentucky. Leslie County Cooperative Extension Agent for Family and Consumer Science Lorie Adams wants to make sure crafting skills are never lost.
For that reason she began a one-day workshop in 2001 to teach participants the basics of popular crafts and innovative ways to market them.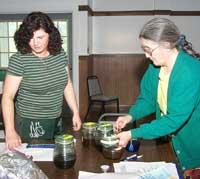 "The Extension Homemakers in our area wanted to help the people in their communities learn to use the craft skills they already have and teach them how to market their products," Adams said. "It also helps keep our heritage alive. We're teaching a new generation to keep these crafts going on."
This year's workshop offered hands-on classes for many well-known projects like hand quilting, basket making, painting, crochet and jewelry making. Other classes taught participants how to make herbal salves, decorative note cards and gift bags, living wreaths, and even how to make flowers from corn husks. Participants were able to choose two or three classes from nine that were offered.
Adams emphasized that not only are participants making a product they can take home, they also are gaining ideas from experienced facilitators about how to market the finished items.
Francis Whitaker of County taught the basket-making class. She has been making and selling baskets for many years and is now passing the craft down to her 12-year-old granddaughter in hopes of providing her a way to fund future college expenses.
"I think the younger people need to know how, because pretty soon the older ones are going to be gone," she said. "My granddaughter sold her first basket last week, she's doing well enough that she can sell them now. So I was hoping that maybe it would help her go to college."
Some participants came to learn a new craft to make money with back home. Others, like Amanda Cornett of Perry County, came to the day-long workshop to learn a new hobby and make friends. Cornett attended classes for corn shuck flower-making and basket-making.
"This is fun – coming down here because of the ladies here," she said. "There's great fellowship and we have such a good time. I have made baskets and given them as gifts. People enjoy that – it's handmade and my own creation so that makes it special."
Adams said members of the Breathitt County homemaker's club have attended both years of the craft marketing workshop and are always able to take ideas back to their club and teach others new skills.
"A lot of these crafting skills are things our grandparents did all the time, so it's good to learn those, to keep them going into the next generation," she said.
Adams said she plans to make the craft marketing workshop an annual event.