Quilting always has been an important part of Appalachian culture in Kentucky. Though interest began to wane in the mid-1900s, by the 1970s a sort of quilt revival had begun, and today that revival is in full swing as an increasing number of people learn the time-honored skill of quilting.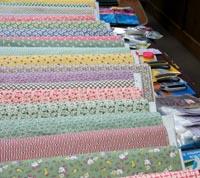 To help meet the needs of those wanting to learn new techniques, to experiment with new and old patterns and, most important, to learn from each other, the University of Kentucky Cooperative Extension Service once again offered a quilting seminar at the Kentucky Leadership Center at Jabez. The four-day seminar drew nearly 100 quilters from six states to the retreat center in southern Kentucky.

"Quilting is evolving so much," said Sue Perry, on staff at the Kentucky Leadership Center. "There are so many new techniques, new equipment and new machinery. There is always something to learn, and we are bringing nationally known teachers to the people here so they don't have to travel some place else."

Perry was referring in part to Bonnie Browning, who offered an all-day workshop at the seminar about scrap quilts and another about the Windmill Quilt, popular with viewers of Home and Garden Television's Simply Quilts. Browning is the executive show director at the American Quilters' Society. She has authored nine books and edited many others about quilting. Browning also serves as technical director for the television show American Quilter and has developed her own fabric line.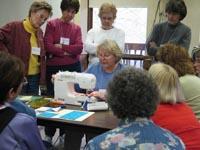 With more than 30 workshops to choose from, there were many options for beginners and advanced quilters alike to hone their skills and learn new ones. Classes for machine quilters and those interested in hand sewing were offered. 

"We have beginners, who have told us this is their first or second quilt and then we have some very advanced students who know lots of different methods but enjoy getting together with other quilters and learning new specific quilts too," said Hazel Jackson, UK Extension agent for family and consumer sciences in Rockcastle County.

Janice Hager, a quilter also from Rockcastle County said she likes to come to the seminar to try new things. She said it gives her a chance to see if she likes a pattern or technique enough to do a full-blown project at home.

"You learn so many new tricks, plus new patterns, new quilts. I learn something new every year," added Hager, who referred to the seminar as a big sisterhood since most of the participants come for the fun and social aspect as well as the instruction.

Jane Brown has attended the seminar each of the past three years. She has taken part as a participant and also as a teacher.

"I think it's wonderful to be able to continue the philosophy of quilting," she said. "Bringing people together as well as it being an educational process and the revival, the renaissance of quilting has been wonderful."

Brown taught a class at the 2006 seminar that showed participants how to make a nickel square wall hanging out of scrap fabric.

Brown and Jackson both talked about how the quilt seminar was helping bridge a generational gap of quilters since many of today's quilters were not taught the skill by older family members, as was customary just a few generations back.

Perry said she just started quilting a few years ago, and having the seminar where she works has really helped to maintain her interest and learn new skills.

Participants were encouraged to bring quilts they had made at home or projects they currently are working on as a "show-and-tell" project. They also donated items for a silent auction that helped defray seminar costs.

For information about next year's seminar or other similar events, contact your county Extension office.
---
Contact:
Hazel Jackson (606) 256-2403