If sharing a quiet weekend in the country with creative, arts-and-crafts minded people sounds like a lovely way to get away from it all, then the 2007 Lake Cumberland Area Heritage Skills Retreat might be the perfect escape.

This year's event will take place September 7 and 8 at the Kentucky Leadership Center in Jabez. The retreat is sponsored by the Lake Cumberland Homemakers and University of Kentucky Cooperative Extension family and consumer sciences agents, and offers 58 classes from which novice and experienced crafters can choose. Classes run the gamut of handcrafts, including workshops in making beaded bracelets or a wire ribbon rose pin; rug weaving: scrapbooking; basket weaving; painting on gourds, sweatshirts and canvas; knitting eyelash scarves and building a number of projects from wood such as a butterfly house, bird feeders, bird or bat houses and shelves.

Instructors are local volunteers proficient in their craft. Joyce Irmen will return this year to teach painting skills through a workshop called Washday Painting. Greg Whitis, McCreary County agriculture and natural resources extension agent, will be on hand to teach several workshops in woodworking. On Friday evening, Rita Hardman will demonstrate the "square in a square" quilting technique.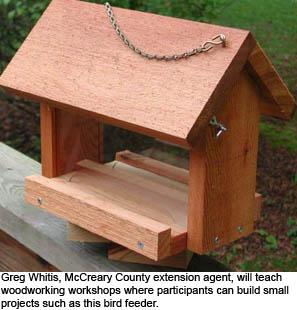 Participants can sign up for either Friday or Saturday, or both days. Rebecca Nash, Taylor County family and consumer sciences agent, said it's more fun to stay for both days.

"Staying at the Leadership Center is very inexpensive and we have a lot of fun Friday night," she said. "We're going to have yoga, line dancing, a quilt demonstration and also some craft classes. There also will be a bazaar where people can sell their items that they make."

Nash emphasized how relaxing the two-day retreat can be in the newly redecorated Kentucky Leadership Center. 

"It's fun to share the rooms down there. There's no television in the rooms, no phone in the rooms. It's quiet. You can sit on the porch and rock if you want to. You can take a walk in the woods. The retreat is in September, so it's really nice down there," she said.

"Of course, if you can't live without the modern conveniences, you can go into the lounge and watch the big screen TV or use the telephone there at the center," she added.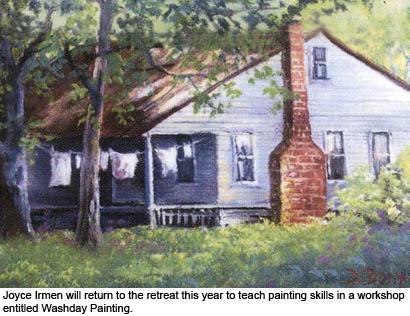 Registration for both days is $11. Cost of room and meals is additional, with rooms ranging from $12 to $33 a night, depending on the number of occupants. Meals, served cafeteria style, are $6 for breakfast, $7 for lunch and $9 for dinner. Individual classes carry small materials fees.

Additional information and official registration form can be found at the retreat's Web site. Registration forms are due by July 1. Classes are on a first-come, first-serve basis.
Contact:
Rebecca Nash, 270-465-4511