It's the time of year when temperatures drop and winds rise. The change in season is a reminder to spread some holiday cheer to the feathered and furred creatures who share our landscape, but not our warm homes or our bountiful cupboards.

Nature supplies a plethora of beautiful objects that can provide both beauty for human eyes and sustenance for animals. Decorating outdoor trees and shrubs with natural objects is a good way to celebrate the season, said Rick Durham, University of Kentucky Cooperative Extension associate professor in consumer horticulture. 

"It can be a creative family activity," he said. "Use natural products to make ornaments, then put them outside to see what kind of wildlife they attract."

At The Arboretum, a joint venture of the University of Kentucky and Lexington Fayette Urban County Government, winners were recently announced in the annual Environmental Tree Extravaganza. The contest is intended to "celebrate the holiday season and the environment," according to a placard that introduced visitors to the display of trees on The Arboretum's grounds. Community groups decorated the evergreens, which were a combination of live Arboretum trees and cut trees donated by local nurseries and farms. Ornaments were created from combinations of natural products from the landscape, simple food from the kitchen and recyclable materials, such as cardboard and paper ribbon.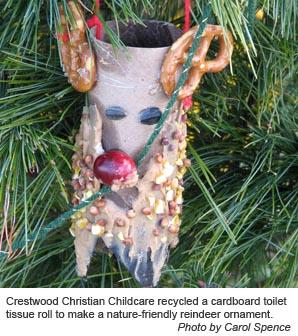 Mrs. Sherman's class at Sayre School in Lexington won in the pre-kindergarten/ kindergarten category with a tree decorated with oranges, and bagels and pine cones spread with peanut butter and seeds. Red ribbons contributed a splash of color. 

Katherine Maley and Friends' tree was embellished with dried fruit, cookies, apples, cranberries, cheerios and bagels. It won in the middle and high school category.

The Mendez family used the long, graceful seed heads from millet as bird-friendly ornaments. They also coated cardboard egg cups with peanut butter and seeds and hung the branches with slices of oranges and apples.

Close to Home, the winner in the "other" category, topped its tree with an angel made from recycled cardboard. The angel's wings were covered with the soft white tufts of milkweed down.

Grand prize winners, Brownie Troop No. 823, used the dried flower heads from ornamental grasses. Their wispy texture contrasted with the heavier evergreen needles of the tree. They also hollowed out oranges and lemons, creating citrus baskets that they filled with bird seed.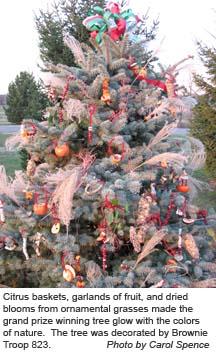 Though the trees all were unique, the one thing they had in common was peanut butter.

"Peanut butter is a great glue to use," said Durham, referring to the spread's ability to hold seeds, nuts and fruit pieces to objects such as pine cones, bagels and tortillas. "Plus, it's a good source of protein for birds and other animals."

"Another thing that I thought was interesting is that it looked like they (some contestants) took some type of fat that they could melt and then put a lot of bird seed in it and let it harden," he said. "It looks almost like a peanut brittle, except that it's got bird seed in it."

According to Durham, sharing the season's gifts with wildlife can teach children about nature and the importance of using recyclable materials. And you don't have to live in the country to reap the benefits. City families can attract a variety of birds and animals to their yards, too.

"Birds and squirrels and chipmunks will all come (to city yards)," Durham said. "In the country, carrots would attract deer and rabbits, as well."
Contact:
Rick Durham, 859-257-3249