Bright yellow canola fields might be popping up in springtime followed by the large blooms of sunflowers in summer, if feasibility work Miles Enterprises of Owensboro and the University of Kentucky College of Agriculture are conducting proves fruitful.

The collaborative effort recently received funding from the Governor's Office of Energy Policy to study the feasibility of growing the two crops in Kentucky. The research will determine the quality and quantity of the oils for use as a biodiesel fuel, as well as the advantages of different varieties.

There is the potential for both crops to be more efficient than soybeans for the production of biodiesel fuel, noted Sam McNeill, UK agricultural engineer and principal investigator on the grant. Oil content of soybeans is only about 18 percent, with 79 percent of the product in the form of meal and hulls. In contrast, canola and sunflower seeds are about 38 percent and 42 percent oil, respectively.

Although canola has been researched and grown on a limited scale in the past, more production research is needed to test new varieties and show producers best management practices. Presently, only a few acres of sunflowers and about 2,000 acres of canola are grown in Kentucky. It would take 50,000 acres of the two crops to fill the need of a proposed biodiesel fuel plant, said John Roberts, business development manager at Miles Enterprises.

Having two crops splits the risk for the plant, said Brian Caldbeck, innovative product and service manager at Miles Enterprises. Adding canola and sunflowers to the state's crops mix would also open up more options for farmers, he noted.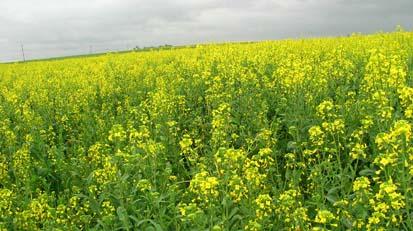 Though sunflowers would be a new crop for the state, canola is not new to Kentucky producers. In the 1980s, research was conducted on the crop and several farmers tried producing it. There were substantial problems with freezing, however, so most people discontinued growing it. Caldbeck said UK's early agronomic research is the foundation for the work being done today. He noted the biggest difference in the 20-year span is the genetic base, along with additional fungicides, seed treatments and seeding rates.

"A lot is tweaking what's been done already," he said. "The bottom line is to make it a feasible crop."

Today, Miles is testing 110 canola varieties from the United States and Europe to determine which can consistently prove to be winners for Kentucky. It shouldn't take long to determine the crop's feasibility if the genetics prove out, said Lloyd Murdock, UK plant and soils specialist who conducted canola research in the 1980s. He noted only a handful of varieties were available then.

Caldbeck acknowledges that because of past experiences, farmers may be a little gun-shy for awhile, but if they start with 50 to 100 acres and have success, then they will be more likely to expand. He said he would not advise anyone to put a lot of acreage into the crop.

Murdock agreed with Caldbeck's assessment, saying, "It will be a two-to-three-year thing. It does take awhile to convince them."

Sunflowers are more of an unknown, but experiences in other states such as Kansas and Missouri indicate that the crop may adapt well to Kentucky. 

As for the research, most field work is being done in the Logan County area by Miles Enterprises, with some directed by UK. The university will conduct scout training for insects, diseases and weeds as needed, and provide information on fertilization and management, UK's Sam McNeill said. A UK lab will perform tissue studies and test oil levels of different varieties. In addition, UK agricultural engineers will work to address any drying and storage issues associated with the two crops, he said.

Another issue that needs to be resolved is the availability of crop insurance on these new crops, Caldbeck said. Without this, farmers will be less willing to take the risk, he said.

Roberts said the grant, along with the collaborative effort between UK and Miles, will propel the research forward and ultimately, he believes, get a biofuels plant off the ground more quickly than if any one entity worked on it alone. He hopes that a regional crushing/biofuels plant could be in place within the next few years to cater to these crops.

McNeill and Murdock said their ultimate goal is to ensure the crop is feasible and, once that has been determined, to work with farmers to learn the management requirements. Ultimately, it comes down to having more options for farmers to add to their enterprises, reducing risk and adding to profitability.
Contact:
Sam McNeill, 270-365-7541, ext. 213, Brian Caldbeck, 270-926-2420