After a long winter, the taste of fresh, homegrown strawberries is a tantalizing treat, and consumers will pay top dollar for the first berries of the season. Having those first berries can mean higher profits for growers.

One of the biggest challenges in strawberry production is protecting the plants from winter's varying temperatures. Research is under way at the University of Kentucky Research and Education Center in Princeton to determine what is the best method to protect plants from winter freeze or damage. The research will not only look at winter survivability and yield but also ripening earliness.

"Strawberries are of interest to a lot of our growers and a great cash crop in the spring," said Joe Masabni, fruit and vegetable specialist with the University of Kentucky College of Agriculture. "The temperature fluctuations in late winter and early spring cause flower injury and yield reduction. In a year like last year with the Easter freeze, yields were significantly lowered, and some growers were completely out of business."

Masabni said previous research was done with high tunnels at UK. In his travels to Uruguay, he saw what he'd describe as medium tunnels used to protect plants. With the high interest in strawberry production and various protection methods available, he said he wanted to see what would work best for Kentucky's producers.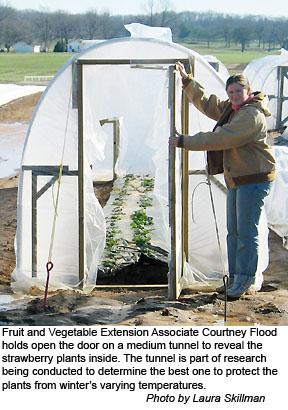 "The idea is to keep the plants alive and growing throughout the winter and not go completely dormant," Masabni said. "This will give them a 10-day jump start in spring growth because they aren't in deep dormancy. "

That can mean earlier ripe berries and higher profitability before most growers have any berries for sale, he said.

The researchers are using the production method called plasticulture where the plants are planted in the fall, harvested in the spring and then removed. This method uses raised beds covered in plastic with each raised row having two rows of berries.

The experiment includes a high tunnel covering two beds and a medium-sized tunnel covering one bed. The tunnels are made from PVC, rope, clear plastic and anchors and are tall enough for a person to enter. The experiment also includes a small tunnel consisting of metal hoops covered with a floating row cover. They also have rows covered with just the floating row cover and plants that aren't covered at all. The strawberries were planted in mid-September and covered Dec. 1. Air and soil temperatures are being recorded for all treatments.

Using the breathable row covers instead of plastic on the small tunnels, which are only about 2-feet above the ground, requires less management because it does not have to be removed during the warmer late winter and early spring days, Masabni said. 

Straw is commonly used on many matted-row strawberry beds in Kentucky. These are beds used for multiple years and planted directly into the soil. Straw is a good insulator but many times not enough is used, and by the end of the winter it has often been blown off the bed. The floating row cover is a better option, he said.

Working with Masabni on the project is Courtney Flood, UK fruit and vegetable extension associate. Flood said while the research is under way, they also plan to use the site for field days, grower meetings and workshops to educate growers on the different options. This will allow them to see how easy it is to utilize some of these methods.

"Since we've put the tunnels up, we've had a lot of interest," she said. "People were stopping by and asking us what we were doing, as we were setting up the tunnels."
Contact:
Joe Masabni, 270-365-7541, ext. 247, Courtney Flood, 270-365-7541, ext. 262