When the timbers of an old Low Dutch Meeting House were found on a farm in Henry County , Sam and JoAnn Adams knew they wanted to resurrect the historic building on their nearby property.
With some funding and leadership from the Kentucky Trust for Historic Preservation, the Adamses began the legwork to move the timbers to their farm and start construction in 2003. JoAnn thought the reconstructed meeting house would be a perfect place to highlight her growing interest in spinning and crafting products with wool from their own flock.
"This was a just a natural fit for us," Sam said of the newly opened meeting house.  "Our farm is located in the heart of Dutch country here in Pleasureville.  I can't think of a more ideal location for these types of activities. It provides a perfect venue for farm-made products."
JoAnn plans to use the meeting house to sell products from their farm and the farms of others in Henry and nearby counties.  However, she and Sam felt education should also be a part of the business.
"We are going to start spinning classes after Christmas," he said.  "We have a list of people interested.  We've got raw fleeces from our flock and other flocks that we will be promoting."
JoAnn knits sweaters, hats, purses and other wool items for sale and personalizes each one by telling the consumer which animal provided the fleece.
"A lot of people like to come out and meet the sheep like Amelia, Catherine, Dolly, etc., to see where items came from," she said.  "They are all natural-colored, long-wool sheep so each one has a different fleece."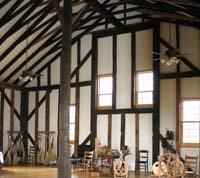 At the grand opening on Nov. 12, a steady stream of customers came to the meeting house to see the finished building as well as the crafts and products from local artisans. Sam said they had artwork and homemade jams and jellies alongside the wool items, and a local broom maker and wood turner were also on hand.
Henry County Extension Agent for Agriculture and Natural Resources Steve Moore said the Adamsesprovide the county a model for entrepreneurship and alternative agriculture.
"They do not adhere just to the traditional type of things," he said.  "We all have to work with the traditional types of thing.  We have to work with corns and beans and tobacco, but many people have seen the need to do some different things on their farm.  Sam and JoAnn are leaders in that regard.  Individual entrepreneurship is something we have promoted in Henry County , and we have many people getting funds through the cost share programs for diversification."
The couple was able to secure a forgivable loan from the Kentucky Agriculture Development Board to help with construction costs.
"It took a lot longer than we thought, but the end results were well worth the pains we took to make sure everything got done right," Sam said.  "We hope people will be excited and come out and be a part of this."
Sam also mentioned they are welcoming craftspeople within driving distance of the meeting house to showcase and sell their products.  The more crafters the better, he said.
Sweet Home Spun at the Low Dutch Meeting House will be open on the weekend through the school year and then weekdays during the summer months to accommodate JoAnn's teaching schedule.
Contact:
Writer: Aimee Nielson 859-257-4736, ext. 267
Contact: Steve Moore, 502-845-2811