From the ceremonial dipping of the rear tire into the cold Pacific Ocean to navigating over the snowy Sierra Nevada mountains, across the alkaline deserts of Nevada and Utah and cresting the Rocky Mountains in Colorado, Wayne Hoover is in the beginning legs of a coast-to-coast bicycle journey to honor the memory of his friend Larry Turner. 

Turner, associate dean for extension in the University of Kentucky College of Agriculture and director of the Kentucky Cooperative Extension Service, perished in the crash of Comair Flight 5191. He was a man who faced many personal trials in his life. It is the memory of his perseverance that Hoover uses as fuel for his 3,850-mile journey from California to New Hampshire.

"He was an incredible man, who had every right to complain about his health or the circumstances he found himself in, but never did," remembers Hoover in the prologue to his online blog. "He chose to look at the bright side of every situation, he chose to have faith in people and loved to see others fulfill their potential."

Turner was raised on an Indiana farm and spent his youth actively involved in 4-H, becoming a junior leader in the organization. He developed a deep appreciation for 4-H and all aspects of the Cooperative Extension Service. As an extension professional, Turner often described the service in three words, "people, programs and partnerships." To Hoover, the cross-country challenge is an ideal way to illustrate his friend's words, since it requires the support of people and partnerships such as R.J. Corman Railroad Group in Nicholasville; Lancaster Market and Rocky Top Log Furniture and Railing, both located in Lancaster; Lexington Diagnostic Center & Open MRI, Sloan Scott Custom Cabinetry, Simpson Optical, Ad-Venture Promotions, all in Lexington; and Chick-Fil-A. Individual supporters include Charlie & Deb Kratzer, Dr. Ardis Hoven and Ron Sanders, Andy and Nicole Logan, Ed and Diane Monahan, all of Lexington, and Steve and Joanne King of Nicholasville, Dee and Alan Campbell, and Insignia Salon.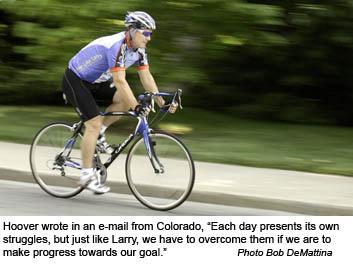 Hoover's trek is not merely a personal tribute to his friend. He hopes the story of his journey will inspire people to contribute to the Kentucky 4-H Foundation and the Larry W. Turner Scholarship Fund in the UK College of Agriculture, two programs that benefit the youth of Kentucky. This, according to Marci Hicks, development director for the UK College of Agriculture, "furthers the mission and ideals that Dr. Turner represented and worked toward during his life."

Because Hoover's 13-state odyssey is fully sponsored by businesses and individuals, funds raised over the 52-day trip will be designated in their entirety to either 4-H or the scholarship fund. Hoover also hopes that 4-H'ers in other states will consider holding fund drives to raise money for their own 4-H activities. Though they may not have had the opportunity to know Turner, Hoover thinks young people everywhere can learn from his example.

"You can impact your fellow man and society for good in ways you cannot even imagine if you just don't limit yourself, if you just don't look at the restrictions and the negatives that happen every day," he said. "If you look past that, you can really make a difference, and Larry was one of those who did."

A journey such as the one Hoover is taking is filled with new people and wondrous sights, as well as time for introspection. His daily blog is filled with vivid descriptions of the variety this country offers.

"The biggest thing that has impressed me is the size and scope of this great land," said Hoover from Colorado. "The people have been awesome, but you really begin to realize the significant role that agriculture has and continues to play in almost every community in the country. In a small way, I am beginning to understand Larry's dream of developing leaders in the agriculture field who will in turn help us all. This challenge is an opportunity for people to give to that cause, to further that dream and help future generations, not only here, but around the world."

With the crests of the Rockies, the breadth of the Great Plains and the northern reaches of the Appalachians still in front of him, Hoover wrote in an e-mail from Colorado, "Each day presents its own struggles, but just like Larry, we have to overcome them if we are to make progress towards our goal. Our goal is to continue the legacy of a great man and a great dreamer. Your gifts can make that happen."


Hoover's daily trip blog and information about contributing to the Kentucky 4-H Foundation or the Larry W. Turner Scholarship Fund can be found on the Web athttp://imperator.ca.uky.edu/turnerchallenge or by calling your local extension office.
Contact:
Wayne Hoover, 859-983-1382, Marci Hicks, 859-257-7200