The University of Kentucky College of Agriculture will host the Robinson Station All Commodity Field Day on Sept. 28 to highlight research and programs of the region.

This year's activities will begin with registration at 8:30 a.m. There will be a variety of morning workshops on topics such as managing sheep terrain, basic horse management, goat production, year-round grazing in Kentucky, and fall farmers' markets. Registration for morning workshops is free unless participants want to eat lunch, which costs $5.

Youth workshops, for grades seven through 12, will also be held during the morning. Topics covered include an introduction to GPS, golf course management, ATV safety, "Win with Wood," Robinson Scholars watershed project and "Growing Better Popcorn." Preregistration is required.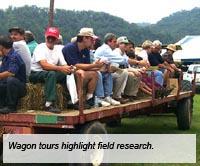 Demonstrations are open for viewing throughout the day and include butter churning, outdoor cooking, corn shuck flowers, tin can ice cream, food preservation, porch weave foot stools, native animal skins and more. Katie the Cow will also be on hand.

Afternoon activities, which are also free, begin at 2:30 p.m. and include a Pride of Kentucky Quilts and Kitchen Show – "Then and Now," a quarter-scale tractor pull demonstration, research/field equipment exhibit, a sweet sorghum stir-off and FAMACHA training.

Afternoon tours will run from 3 to 6 p.m. Agronomy tours will focus on fertilizer nitrogen options, a sweet sorghum variety trial, a forage variety testing program, a seeded bermudagrass variety trial and forage production for goats.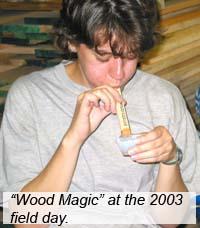 Horticulture tours will emphasize fall decorating with gourds, pumpkins and ornamental corn, a staked tomato cultivar trial, a sweet potato cultivar trial, cut and dried flowers, an herb garden, high-tunnel tomato production and small fruits for Kentucky.

One forestry tour will include shitake mushrooms, using a moulder to add value to wood products, growing black walnut trees, chainsaw safety, carbon dioxide laser use in wood products and a tour of the Wood Utilization Center. A second forestry tour will be held at the Robinson Forest and will include timber harvesting and stream protection, invasive species threats to eastern Kentucky forests, Sudden Oak Death, and the current status of outbreaks and research concerning the hemlock wooly adelgid.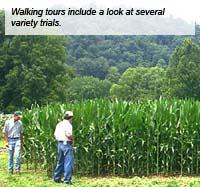 This year's co-chairs for the event are Terry Jones and David Ditsch. Sponsors of the field day are the UK College of Agriculture, Cooperative Extension offices in Districts 1 and 2, Kentucky Farm Bureau, the Barnhart Fund for Excellence, the Breathitt County Conservation District, Southeastern Kentucky Agriculture Development Council, Citizens Bank and Trust of Jackson and First National Bank of Jackson. 

Robinson Station is located on U.S. Highway 15, three miles south of Jackson. For more information, contact your county Extension office or Stephanie Montgomery at 606-666-2438.
Contact:
Stephanie Montgomery, 606-666-2438