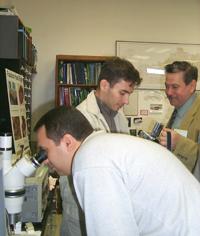 The University of Kentucky Research and Education Center played host to a group of Russian agribusiness professionals who were in the state learning about grain production and processing.
The Nov. 18, visit to the Center highlighted the research and extension efforts by the staff at the facility in areas of grain production, weed science, soil science, plant pathology, beef production, horticulture and more. They also were given a tour of the farm and its facilities along with an overview of the Cooperative Extension Service.
In western Kentucky the group is being hosted by Rotary Clubs in Cadiz, Princeton and Hopkinsville. While in Kentucky, the Russians also are visiting grain elevators, millers, processors, farms, farm supply businesses and educational facilities.
Wade Kadel of Cadiz is the local coordinator for the three-week training program with Duane Miksch, a retired UK veterinarian, serving as the Princeton activities coordinator.
"One of the first requests was for the UK Research and Education Center to provide some in-depth training for them," Miksch said. "They are hungry for information, not only in production and handling, but in the free market concept and personnel management because they have only had 10 years of freedom to work on these things."
Miksch said it is a wonderful opportunity to assist with the program.
"They have a lot of people to feed and they need help in doing it," he said. "They have the natural resources, they just need to take the time to gear up to do it right after the many years of collective farms arrangements."
The group arrived in western Kentucky at the end of October as part of the Center for Citizen Initiatives Productivity Enhancement Program. The Center, headquartered in San Francisco, Calif., has been offering training visits to the United States for Russian business people since the 1980s.
This delegation included directors of farm enterprises that employ from 10 to 600 people. Some both produce and process grain crops, while others are involved more in buying and storing of grains. Many also have other agricultural interests in addition to their grain enterprises.
Sergey Tarasenko, a deputy director of a firm that processes bread flour and bread products, said the purpose of their trip was to learn more about agricultural practices and production techniques.
"We are quite fascinated with the American equipment that is utilized here," he said through an interpreter. "The second thing that surprised us is the amounts of support American farmers get from their government, both financial and what is provided by the Extension offices and educational institutions."
Ivan Chepegin, head of a grain farm with 52 employees, said he was impressed with the global positioning system technology used in the United States for variable rate fertilizer applications and wants to try to implement a similar system on his farm.
He said he really enjoyed the visit at UKREC.
"In Russia there are similar organizations but they do not cover most of the agriculture regions and, at the most, we could get access to one consultant," he said, also through an interpreter. "Here, it is much more developed and farmers get more support from the institutions such as the University of Kentucky."
They do have experiment stations, but the stations are closely associated with an institute such as grain, he said. The consultants utilize information from these institutes and regional research centers, Chepegin said.