Water and some antacid tablets shaken together sent their containers -- film canisters -- rocketing into the air. Plastic soft drink bottles partially filled with water combined with compressed air sent makeshift rockets skyward recently at the Murray Calloway County Park.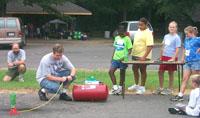 All this fun for the young participants also provided them with lessons on Isaac Newton's three laws of motion.
The Calloway County 4-H Hands-on Science Day Camp focused on rocketry, what can propel items skyward and why they fall back to earth.
Michael Siebold, a 16-year-old 4-H teen leader, taught students about rockets by firing the water rockets and building and launching a model one.
Siebold, who is home-schooled, has been interested in rocketry for about 10 years. Working with rockets, he said, has given him a better understanding of science.
Ginny Harper, Calloway County Extension agent for 4-H/Youth Development, said she was a special education and science teacher prior to becoming 4-H agent with the University of Kentucky Cooperative Extension Service.
"So since becoming a 4-H agent, we've done a lot of different hands-on science day camps," she said. "I think kids really relate to science and it is a real good way to supplement the classroom and to make it something fun for kids."
Science is one area in which educators in the state would like to see kids gain a better understanding.
"It is an area where we can make a big difference in programs like 4-H," Harper said.
The day camp activities utilized simple tools such as balloons and straws, antacid and film canisters and some rockets.
There are a number of curriculums available for use by 4-H clubs and others interested in using rocketry to teach science concepts.
"Science can be real simple," Harper said. "That's what I like about these day camps. You don't have to spend a lot of money to teach some really good concepts and make a difference in a kid's life."
Contact:
Ginny Harper, (270) 753-1452