Mexico City native, Isreal Abelar, has come a long way to pursue his American dream. He and his family moved to Chicago from Mexico and finally to Kentucky to join family members. They are pursuing a dream of small business ownership in the Lexington area. Abelar was grateful to get some specific training to help him get started from Fayette County Cooperative Extension and the University of Kentucky's Small Business Development Center.
Abelar has been attending a series of workshops called "A Business of My own," with several of his peers who all share one common goal – working for themselves.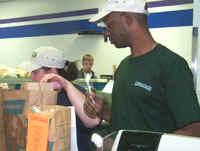 "Like everyone here, we'd like to learn how to do the first steps and how to get the loan," he said. "I hope it will help us because it's hard to start. There's a lot of paperwork and a lot things to plan. But we really want to start a record store and sell music."
Diana Doggett, Fayette County Extension agent for family and consumer science, said Abelar represents a growing number of minorities who want to own their own business. She's been involved in "A Business of My Own" seminars for about five years.
"We took a look at our program of work and our community and realized we needed to address minorities needs and do some planning for them as well," she said. "We decided we wanted to do an overview – something not real intense, but something that will plant the seed and give the audience an opportunity to explore ideas and to see what possibilities might be in their future. We'll have a more in-depth series in the spring."
Fayette County's Extension office is working with representatives from the Kentucky Small Business Development Center to provide not only workshops for minorities wanting to start their own businesses, but also to provide counseling and help in creating a business plan to prepare the individuals for what they will face in the future.
Maurice Gayden was on a panel of several minority business owners speaking to workshop participants in December about how he got started and what it takes to stay in business. Gayden owns Mr. Goodcents Subs and Pastas and he knows the excitement and challenges of being his own boss all too well. But, he said owning the franchise is a dream-come-true.
"I got tired of working for large companies and I was tired of being just a number; I wanted to be my own boss," he said. "I kind of stumbled upon this opportunity by delivering subs for them (Mr. Goodcents) and then I worked my way up to a manage before I decided I wanted to buy one."
Gayden and his wife have owned and operated Mr. Goodcents going on two years. They feel that by speaking at workshops and seminars about their success, it will give others a chance to see that business ownership is possible.
"I feel the more minorities who can own businesses, the better," he added. "It's good for minorities and it's a way we can be good role models for others wanting to do this."
According to Doggett, so many minorities come to the United States seeking opportunity and independence, but still face some unique challenges in business.
"In addition to the challenges of creating a business plan and complying with all the legal aspects of business ownership, we found out there's a social barrier," she said. "There's lots of cultural differences and that has a lot to do with how you relate to people."
To compensate for the cultural challenges, Doggett said they will add a session to their spring workshops on interpersonal relationships. The goal of that session is to teach potential business owners how to get and maintain customers.
"Studies say about 70 percent of customers leave a business if they sense an indifferent attitude (from the owner)," she said. " We want to make sure they get off on the right foot and know how to interact."
As for Abelar, he said plans to take full advantage of future counseling opportunities and workshops that will prepare him for business ownership. Doggett believes Abelar and many like him can succeed if they have the right information.
"It's a dream, you can see it their eyes," she said. "There's such a perception of America as a land of opportunity. They have such a thirst and they just want someone to tell them what to do to get started and they will do it."
For more information about "A Business of My Own, " or other programs available for small business owners, please contact your county Extension office. You may also visit the Kentucky Small Business Development Center's web site at http://www.ksbdc.org/
Contact:
Diana Doggett 859-257-7759