More than 140 sewing enthusiasts from across the state converged on General Butler State Resort Park recently to hone their skills, sample the latest technology and explore the possibilities for both hobbyists and entrepreneurs.
It's Sew Fine: For Home and Family, a statewide expo, was the result of 11 months of planning by University of Kentucky Cooperative Extension Service agents in District 3, which covers an area from Bullitt County to Campbell County in northern Kentucky. Ruth Chowning, family and consumer sciences agent in Bullitt County, came up with the idea after speaking with agents in other states where similar sewing expos are held.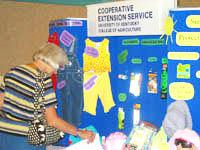 "I had been to a national meeting about four years ago and talked to some of the agents out in Washington and Oregon and Wisconsin… and they had talked about an expo that Extension was doing out there," said Chowning.
Because many Kentuckians love quilting and sewing and there had never been a statewide sewing expo here, she said she brought the idea back to the agents in her district who enthusiastically agreed to it.
For an $80 registration fee, participants received access to exhibits and classes over a two-day period, as well as a lunch and dinner. Sewers of all levels and interests were encouraged to attend, said Chowning.
"We have one all-day quilting class that is being held," she said. "We have eight Make It and Take It sessions. Each session teaches a different sewing technique while making a project. There will be some teaching about just plain sewing, like appliqué. We'll be teaching about sewing-embellished scrapbooking. We also have a class on serging that will cover basic as well as heirloom techniques."
Registrants also received a kit provided by quilting instructor and author Cindy Casciato, whose keynote speech focused on color theory.
Exhibits provided something of interest for everyone. "There is an assortment of sewing and quilting supplies from patterns to fabric to machines and sergers. We have the whole spectrum of supplies for anyone who's a sewer, whether you're a beginner or advanced. There is probably someone here who can show or help you with your needs," Chowning said.
Master clothing volunteers – certified volunteers who provide support for educational activities in clothing construction – came from around the state to teach or lend assistance in many of the classes that were offered during the two-day event. Marjorie Baker, Extension associate for clothing and textiles, talked about the mission of the volunteers.
"We don't want sewing to die," she said. "We want this to continue. We know that there are households out there that don't have anybody in there that can pass it on to their children and their grandchildren. We're hoping that by getting these ladies trained and being paraprofessionals that they can help the Extension offices and their communities by offering that service to them."
An enthusiastic supporter of this first venture into the sewing expo arena was Lee Davis, a retired medical supplies salesman who sat on the planning committee with his wife Sandy, a master clothing volunteer and president of the Louisville Chapter of the American Sewing Guild. Davis said sewing provides both a link to the past and a door to the future.
"These ladies are making legacies," he said. "Your quilts, they're lasting for two and 300 years. These heirloom dresses, these christening gowns that go through a whole family – 75 and 80 years. We want to put Kentucky on the map in the area of sewing and there's no reason why not to," he said. "Look at Appalachia and the craftspeople that are there and the industry that's been lost. Sewing can become a home industry big time. Ladies that are displaced from work over there can sew out of their home and do very well."
When asked how he, a non-sewer, became involved with the expo, Davis said with a smile, "I tell people, I've got a drug problem, OK? Because of my wife's sewing, she's 'drug' me to Portland, Ore., she's 'drug' me to Indianapolis, she's 'drug' me to Nashville, now she's 'drug' me to Carrollton."
Davis already has plans to be "drug" to next year's It's Sew Fine expo. "Our vision is to take it to (Lexington's) Rupp Arena or to take it to the Commonwealth Convention Center (in Louisville). … To me it's a very worthwhile endeavor."
Contact:
Ruth Chowning, (502) 543-2257