It's a sunny Thursday morning and a teenage boy and his younger sister get permission from their father to do some farm work on a tractor. The boy drives the equipment through the field, while his sister hangs on beside him. Suddenly, something in the field causes the tractor to tilt hard and overturn, throwing the girl to the side and pinning the boy underneath.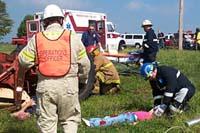 Fortunately, the above scene was only make-believe, a scene acted out at the bi-annual State Farm Field Day on Kentucky State University's Research Farm. Dale Dobson, with the Ky. Department of Agriculture, travels around the state promoting farm safety and putting on mock accidents and rescues to show people just how much is involved in saving the lives of those involved in farm related accidents.
"It takes such a magnitude of people to put one of these on," Dobson said. "People from Hazard, Paducah, Owensboro, Cincinnati and all these key players travel with me and help me in different areas."
Firemen, emergency medical technicians and volunteers come together dressed in full emergency attire. A few hundred people attending the field day stood by watching and waiting the lifelike scene. The emergency workers went through the exact set of events that would happen in a real emergency, minus the planned helicopter life flight. Due to Federal Aviation Administration restrictions after the tragic events of Sept. 11, helicopters are not allowed to fly unless there is a life and death emergency.
"We were affected by the events of last week (attacks on New York, Washington D.C., and Pennsylvania)," Dobson said. "The air medical services in Kentucky is one of my biggest partners. They will fly me places; they'll do anything they can to help me save a life because they are the people who fly the worst ones to the hospitals. They are grounded right now and I understand that. There were people just going to work that were lost last week and there are so many people feeling the deaths, but we're here celebrating life today."
Dobson's goal is to lessen the amount of farm-related deaths each year. So far, the number lost each year has dropped. In 1995, there were 48 deaths. In 2000, that number was down to17 with no children killed.
"My mission is to lower the number of deaths and injuries in the state of Kentucky – to lower the number of deaths in children," he said. "By doing that, it lowers the suffering to farmers in agriculture. And anytime you do that you and you can keep the farmer working it's good."
Dobson said he's seen the financial and mental stress families go through after farm related deaths and accidents. When people know how to protect themselves and how to react to emergencies, lives will be saved.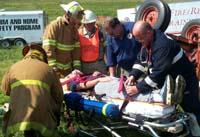 Larry Piercy, University of Kentucky agricultural safety and health specialist, spends much of his time promoting Roll-Over Protection Structures for tractors. He is sure these devices can save lives if a tractor accidentally tips over in the pasture.
"One of the best ways to prevent serious injuries or rollovers a ROPS mechanism," he said. "Even if that tractor overturns, if someone makes a mistake, there will be a zone of protection."
Piercy said parents also should evaluate their children's skills and make sure they are ready to be on farm machinery. It's important to remember one seat for one rider and not have extra passengers riding along.
"We try to discourage extra riders; we know it's a high risk activity," he said. "We really encourage parents to take a second look at allowing children to be on tractors or equipment they could fall off. It's sometimes an unnecessary risk that can be avoided by just saying no to the kids and finding another job for them to do."
Bobby Gayheart, a firefighter from Hazard brought his crew to the field day to take part in the accident and teach the audience about safety but also to give his crew practice.
"We all feel bad about the firefighters and policemen who were lost in the attacks, but we have to move on; we have a job to do," he said. "This is where we learn, it's training and it's the time to learn a new way to do things like move or lift a tractor. It better trains us for when the real thing does happen.
Farm related injuries can be avoided when people learn correct precautions and how to react in case of emergency. It takes parents, children, communities and volunteers to educate and put things into practice to prevent accidents on the farm.
"We do know when we all work together with a common goal of safety for our families and communities, that it does work." Dobson said. "We all have a part in lowering the deaths, all of us working together as a team."