Theresa Vincent's sixth-grade class has been busy recording children's books on tape. They hope their efforts will instill a love for reading in the children who listen.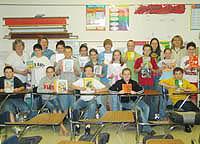 Each student in the class chose a book a young child might enjoy, paid for it and recorded it. The books and tapes will be used at the family reading night activities in Muhlenberg County schools and also will be available through the Longest Elementary School library. Families will be able to check out the books, tapes and a tape player to take home and listen and read along.

"I hope that little kindergarteners will want to read more books," said sixth-grader Daxton Lear. "If they enjoy that one, maybe they will look for more books in that range and they might enjoy it more often."

The idea began with Judy McGehee, 4-H youth development program assistant in Muhlenberg County, who learned of the idea during a meeting in Lexington and she shared it with Vincent. The two paired together for the yearlong service project.

Vincent and McGehee said they talked about the county's literacy rate being in the bottom half of the state and how the project may be a tool to help. Several projects are ongoing in the county to help improve literacy and this one will be added to the arsenal, McGehee said.

"I like to do extra projects and service projects, particularly," Vincent said. "We didn't have to do it, but so many of them in their own home setting don't get the chance to do something to help someone else and I wanted them to have the experience of doing that. Just the feel good part about doing something to help someone else and to help them read is the best thing."

The students have learned along the way, as well, she said. It has improved some of their reading habits, taught them to put more expressiveness in their voice while reading aloud and brought back some memories.

Several students had a hard time choosing a book, such as Rebecca Smith before her mother handed her a copy of "The Great Show-and-Tell Disaster."

"I read it and thought it was cool," she said.

Megan Hendricks chose "Winnie the Pooh Believe in Yourself" because it was for a young audience and because it was fun. She recorded it in one take while some students recorded theirs several times before being satisfied with the results. That was the case for Steven Jones who read "Winnie the Pooh: Friendship Day."

"I had to record it about five or six times because every time Mrs. Vincent would ring the bell (to signal a page turn) I'd get confused and mess up the words," he said. "It was her fault and my fault."

"The Happy Man and His Dump Truck" allowed Joshua Lindsey to show his creative side with voices and sound effects.

"It just seemed like a pretty good book because it had farmers interacting with animals and I like animals so I chose it because of that," he said. "And the sound effects were fun."

Vincent and McGehee said this first year was a great experience for them and the students and they are already thinking of ways to improve it for next year.
Contact:
Judy McGehee, 270-338-3124