University of Kentucky College of Agriculture economists have tallied preliminary results from the most recent Produce Planting and Marketing Intentions Survey. Initial results indicate an expected acreage increase for produce crops of about 8 percent this year.

"This is the same acreage growth rate as the 2006 estimate," said Jim Mansfield, UK agricultural economist. "Fruit crop acreage will essentially remain the same at an estimated 2,496 acres, while vegetable crop estimates are predicted to be around 9,018 acres, up by 11 percent from the 2006 level."

Mansfield said produce crop expansions appear to include a variety of crops. The largest percentage of change comes from an expected 225-acre increase in cabbage production.

"Undoubtedly, this is a reflection of Cabbage Inc.," said Tim Woods, UK agricultural economist. "Cabbage Inc. is a produce wholesaler that has begun contracting for fresh and processing cabbage in Kentucky."

Another factor in the wholesale market is a 31 percent decline in jalapeno pepper acreage, which Woods said is a result of decreased contracting of the peppers in western Kentucky.

"The other possible wholesale market-driven acreage change is reflected in a 184 percent increase in field-grown lettuce acres, up from 18 acres to 51 in 2007," Woods added. "This is probably due to contract trial production of romaine lettuce on several central Kentucky farms."

Woods explained that more intensive production techniques for greenhouse lettuce were also estimated to make a large increase of 226 percent, from five acres to 16 acres. This could be in response to Kentucky growers using more high-tunnel production techniques as well as a reflection of an increased demand for fresh produce for direct markets, such as farmers' markets and community-supported agriculture, he said. 

"Other intensive production methods appear to be gaining popularity with Kentucky farmers in the form of greenhouse tomato production, which is showing at 50 percent increase over 2006," Woods added. 

Mansfield said that while the fruit acreage should remain about the same as 2006, the survey indicates a small decline in apple acreage and a possible 11 percent decline in grape acreage.

"Bramble crops, on the other hand, show a continued expansion of 12 percent each for blueberries and blackberries," he said. "Raspberries appear to be getting more popular, possibly from new and improved varieties becoming available to Kentucky growers."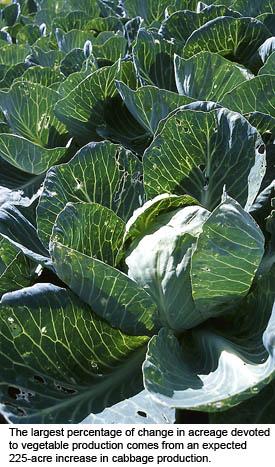 It is important to note that most of the survey responses were submitted prior to the Easter freeze that decimated much of the state's fruit crops. So, Mansfield said it's likely that actual harvested acreage for 2007, especially for fruit, will be lower.

In addition to planting and marketing intentions, the survey queried growers about changes in their operations from 2003 to 2006. Most indicated they had seen increased sales for the period of between 18 and 35 percent. Those surveyed expect produce sales over the next three years to increase from 16 to 35 percent. Only about 15 percent of respondents expected any kind of sales decline. 

The survey also indicated that many producers continue to be relatively small - 56 percent had less than $10,000 in sales – and emphasized selling through direct market channels.

"Marketing through farmers' markets, direct to restaurants, on-farm retailing, auctions and CSA's all increased in the number of farmers selling at least 10 percent of their produce through these channels," Woods said. "Statewide marketing programs, such as Restaurant Rewards and MarketMaker remain underutilized, and there remains a strong need to raise awareness of these tools."

Additional information from the survey will be released in a more comprehensive report in the near future. For more information, contact Woods at tawoods@uky.edu.
Contact:
Tim Woods, 859-257-7270, Jim Mansfield, 859-257-7272, ext. 223